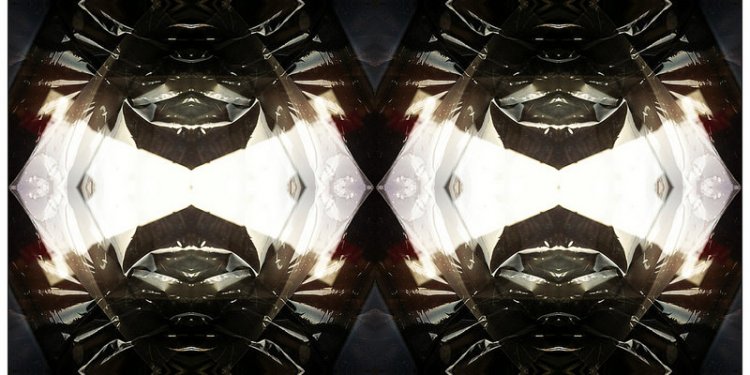 Pattern design wallpaper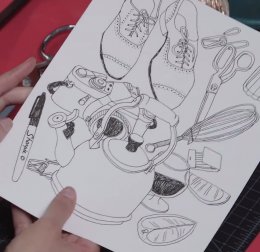 Creating your own repeat pattern tile is a simple skill that's applicable to hundreds of fun projects — and your friends will ALWAYS be impressed! Try wallpaper, book covers, posters, gift wrap, or your phone lock screen. The possibilities are endless.
These 5 quick steps are about illustrating a pattern the old-fashioned way, by hand. No need for Photoshop or Illustrator! Just grab a pen, paper, your brain, scissors, and (probably) a photocopier or printer.
1. Draw a design.
Start in the middle of your paper. You can use any size, but I'd recommend 8.5 x 11 to give yourself plenty of room, plus that's probably the most handy. Use a pen since it will photocopy best, or start with pencil and trace over your lines. Make sure to distribute an even amount of solid color, which will help with visual consistency in the final tile. Most importantly, do not touch the edges of the paper!
2. Cut, flip, tape.
Cut your drawing in half. (I know, this is scary! You can do it. Remember you can always copy, scan, or photograph your original for safekeeping.) Consider using an exacto knife for a clean cut, but scissors are fine, too.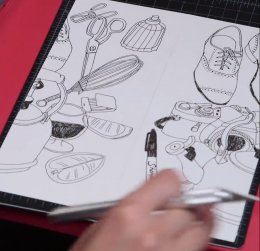 Once you have your two piece, flip them so the original outer edges touch, back to back. Then, tape your two halves together. Tape on the backside so your drawing stays clean.
3. Repeat: cut (the other way), flip, tape.
Rotate your page, and cut it in half again (the other way, so that the two cuts form a cross). Flip these two new halves, and tape them back together. Again, the tape should go on the back.
4. Draw in the blank spaces.
Since your design is now on the outer edges, you're likely seeing a big blank space in the middle. Fill it in! Draw in all the empty bits and finish your drawing. As before, don't draw on the edges.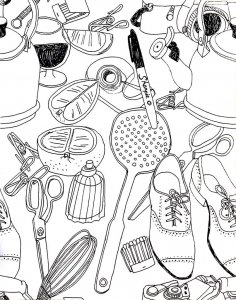 When you're done drawing, step back and admire your work. This is your repeat tile. Isn't it beautiful?
5. Copy, copy, copy — and assemble!
Now that you have your tile, the possibilities are limitless! You can photocopy it and assemble it for wallpaper, book covers, posters, or gift wrap. You can add color or embellishments. You can scan it and bring it into Photoshop or Illustrator for final touches. Maybe you digitize it for your desktop or phone background. Most importantly, have fun.
Happy patterning!
Isn't this tutorial awesome?
Julia Rothman has created illustrations and pattern designs for newspapers, magazines, wallpaper, dishware, bedding, books, billboards and subway posters. Some of her clients (in no particular order) include Chronicle Books, Target, Anthropologie, Crate & Barrel, The New York Times, The Washington Post, Urban Outfitters, The Metropolitan Transit Authority, The Land of Nod, Design*Sponge and Victoria's Secret. She has authored and illustrated many books including a personal memoir/guidebook to her hometown, Hello NY, and her most recent Nature Anatomy which is compendium of curious facts and illustrations about our natural world. She lives and works from her studio in Brooklyn, New York. Julia works from her studio in Brooklyn, NY. She graduated from the Rhode Island School of Design in 2002.
Share this article
Related Posts