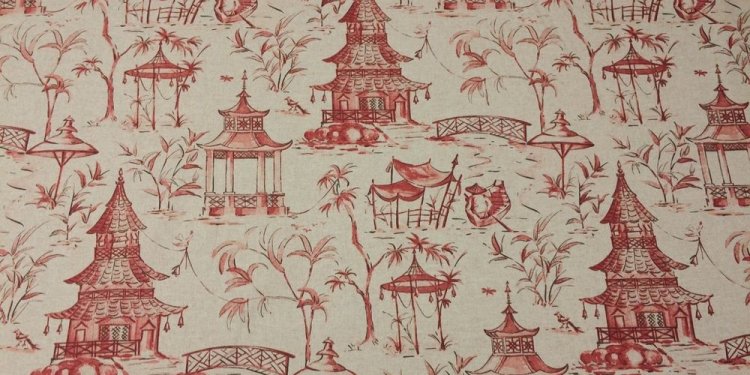 Chinoiserie Upholstery Fabric
This glossary explains a little bit about the fiber types we use in our clothing. If you have further questions, you can contact us for additional information.
Acrylic
Acrylic resins, often called acrylics, are made by the polymerization of acrylates or other monomers containing the acrylic group. Acrylic compounds are thermoplastic (they soften or fuse when heated and reharden upon cooling), are impervious to water, and have low densities. These qualities make them suitable for the manufacture of a variety of objects and substances, including molded structural materials, adhesives, and textile fibers. Such fibers are used to weave durable, easily laundered fabrics that resist shrinkage. It is a durable fiber with a soft, woolly feel. It has an uneven surface, making it different from most manufactured fibers. It comes in a variety of colors, and can be dyed easily. It is resistant to sun and chemicals.
Uses: Often used as a replacement for wool.
Bouclé
Fiber: Wool, also in rayon, silk, cotton, linen, blends, hair fibers.
Weave: Any weave, knit.
Characteristics: Yarn with loops, which produces a woven or knitted fabric with rough appearance. A drawn out or ringed, looped yarn is used to give it a kinky appearance at intervals. Made in a variety of weights. Boucle yarns are usually in both the filling and the warp. Fabrics are usually springy to handle on account of the highly twisted yarns used to achieve the boucle effect. Often ravels easily.
Uses: Coats, suits, dresses
Broadcloth
Fiber: Cotton and silk, and rayon. Very different than wool broadcloth.
Weave: Plain weave and in most cotton broadcloths made with a very fine crosswise rib weave.
Characteristics: Originally indicated a cloth woven on a wide loom. Very closely woven and in cotton, made from either carded or combed yarns. The filling is heavier and has less twist. It is finer than poplin when made with a crosswise rib and it is lustrous and soft with a good texture. Thread count ranges from high quality 144 x 6 count down to 80 x 60. Has a smooth finish. May be bleached, dyed, or printed; also is often mercerized. Wears very well.
Back to Top
Cotton
A natural vegetable fiber of great economic importance as a raw material for cloth. Its widespread use is largely due to the ease with which its fibers are spun into yarns. Cotton's strength, absorbency, and capacity to be washed and dyed also make it adaptable to a considerable variety of textile products. It is one of the world's major textile fibers.
Share this article
Related Posts