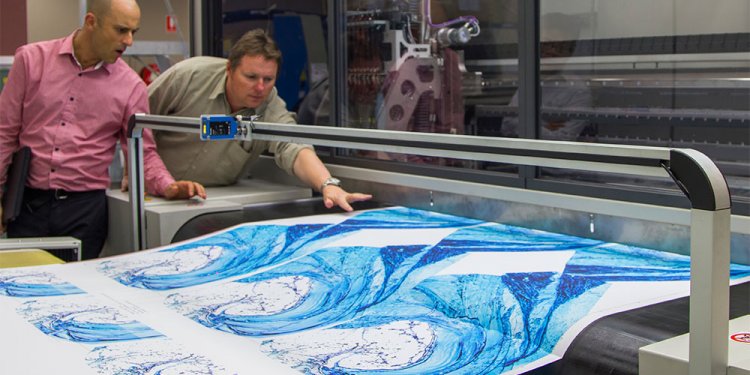 Digital fabric printing Sydney
Digital Fabrics is a digital on-demand fabric printing company
Our dye sublimation fabric printing method allows us to print on Polyester base fabric and gives outstanding printing results as the dye becomes part of fabric and doesn't wash or wear EVER! Dye sublimation is the perfect printing option for swimwear and sportswear production, commercial spaces, display and fashion market.
Direct to fabric printing technology provides us with an opportunity to print on beautiful natural and organic fabrics. Natural fabrics are great for your home, children, DIY and fashion projects. Printed natural fabrics have a tendency to fade with washing, leaving a beautiful textured organic casual look.
Regardless what method you choose to print your custom fabrics, we guarantee great quality and best results!
Our Online Digital Fabric Printing system gives you a quick and easy custom fabric solution, while our One on One full service provides guidance and hand-holding throughout the process.
Online Digital Fabric Printing -upload your design into our online fabric uploader. With a few clicks you can upload the design, preview the results and get your order under way. This is the quickest and most cost-effective way to turn your digital designs into fabric!
One on One full service assistance ensures you the best quality control and full support from our team. We will guide you through the fabric printing process helping you with a fabric choice, strike-offs printing, colour matching, checking and proofing your files.
Matte and Shiny Lycras are perfect for swimwear printing, sports and active wear printing
Jersey & Ponti- soft knit for casual wear or any easy flow non structured garments dresses, sweat pants, singlets, jackets.
Waratah, Wattle- great for cushion covers, drapery, table cloth, display and signage, backdrops.
Canvas – best for outdoor cushions, backdrops and signage, photo and art canvases.
Panama and Snow fabrics are perfect for upholstery and drapery.
Maui – for board short printing.
Cotton Linen-suitable for all projects, clothing, drapery, backdrops, table cloths, cushion covers, tea towels, shoes, bags
Bamboo- table cloth, fashion garments, kids wear
Cotton Drill- great for all projects homewears, fashion garments, marketing and events
Aerocorp –cotton-look and feel ideal for shirting and bedding
Micro is your perfect fashion fabric, ideal for dresses, skirts, women's tops.
Chiffon – great for fashion garments, dresses, tunics, scarves
Voile & Organza –for fashion printing and creative displays
Felt – for gaming tables, cushion covers and displays
Speedy -for towelling, cushion covers, beach towels, body wraps and blankets
Fleece- home wears such as blankets, cushion covers also suitable for fashion garments jackets, dressing gowns, kids wear
Share this article
Related Posts