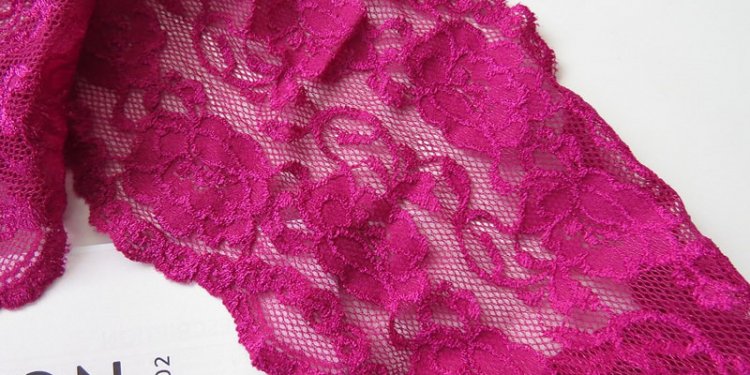 Lace Stretch fabric
Lace is a delicate but beautiful fabric that is often used for decoration, both on clothing and on other textile products. Lace can be created either by hand or using a machine, and is made from yarn or thread in an open-web like pattern. Originally, lace was made from linen, silk, gold or silver threads, but now it is most commonly made from cotton thread. Patterns are stitched into lace fabric, traditionally creating floral patterns, although crafters now sew all manners of patterns into lace fabric.
Lace has been used since the 16th century, and as a result, there are many different varieties of lace, many of which are named after a place. The type of lace is defined by how it is stitched. Some traditional laces such as Mechlin, Valenciennes, Honiton, Brussels, Duchesse, Maltese, Chantilly and Point d'Espagne are well known as types of lace, and all have different methods of creation.
Here at WhiteTree Fabrics, we have a very broad selection of lace fabrics in many different styles and colours, with the number of lace products we have in stock numbering over 700. One of our many types of lace is stretch lace. Stretch lase is a very flexible type of lace to work with, and is very versatile to use in the crafting of various clothing. Our stretch less comes in variants of either one way or two stretch, and in over 120 different pattern varieties.
There are a wide variety of uses for stretch lace, including lingerie, tanks, dresses, skirts, fashion accents home furnishing to name a few. Use your imagination, and we are confident that you will be able to create something you are proud of from our excellent range.
View our extensive fabric collection and choose from over 1600 designs, in varying patterns and colours. If there's something you're looking for that you can't seem to find, then please contact us. Chances are we can get it and we would much rather stock the lovely things that you want to buy so that our shop offers the best selection possible.
Share this article
Related Posts