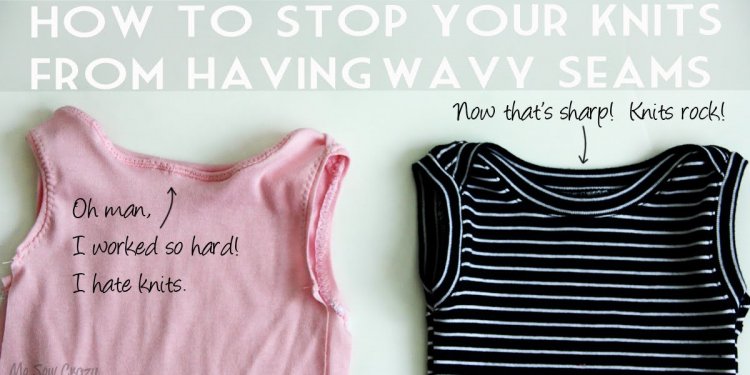 Sewing with stretch fabric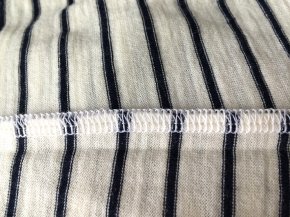 In this online class, you'll learn to handle, seam, hem and finish any knit fabric with the smartest techniques for your most rewarding results.Enroll Now »
1. Serger or overlock machine
If you live in the United States, you likely call this type of machine (pictured at the top) a serger. If you live elsewhere in the world, you probably refer to this machine as an overlock or overlocker machine. They are one in the same and the names are interchangeable. A serger sewing machine is the most ideal machine for sewing seams on knit, stretch fabrics and similar fibers.
Let's start at the beginning: what is a serger? This is its own machine, and is not the same as using a "serger" stitch on your conventional machine. A serger uses cone threads and can sew from 3–5 cones, depending on the machine and the stitch you are using. A serger stitch usually looks like the image above, with loops going around the edge of the seam allowance, and two straight stitches along side of the loops. The machine sews the upper and lower looper, the straight stitch, and the "safety" stitch (the second straight stitch) all at once, while the internal knife inside cuts off the excess seam allowance. This stitch naturally stretches, so when you pull on your seams, the stitch moves along with the fabric.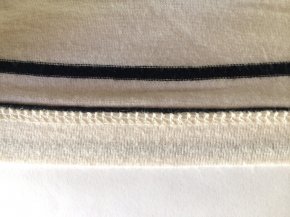 This is the most ideal machine to use when sewing a seam on knit fabric. But this is not the way you would ideally sew a hem on knits, and of course you cannot do any top stitching with a serger. For hemming, you want to use the next machine on the list…
2. Coverstitch machine
When you purchase a T-shirt from a store, the hems are most likely sewn with a coverstitch machine (pictured above). This is not the same as a serger or overlocker, but some sergers can be converted to sew a coverstitch. My serger does this, and I will admit that changing it over is incredibly annoying and involves using a screwdriver to take the foot plate off my machine and change it to the coverstitch footplate, change the foot, disengage the knife, and rethread the machine. So this is not something you would want to do over and over. But if it is your only choice for sewing a coverstitch, my advice is to save up your hemming for a handful of projects, switch your machine over, then hem them all on one day.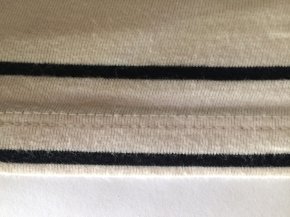 Or, if you really feel like a wardrobe of knits is in your future, save up and buy a coverstitch machine! They are pretty amazing, but they only do one thing, so you need to be ready to invest in that one specific stitch.
Just like a serger stitch, there are two straight stitches and a series of loops, but it looks entirely different. The face of the garment has two rows of parallel straight stitches, which looks a lot like what you get when you sew on a conventional machine with a twin needle. The back side of the garment has thread loops that hook from one straight stitch to the other, which allows the stitch to stretch when pulled. But even if you have a serger for your seams, and a coverstitch machine for your hems, you still need another machine for your topstitching…
3. Conventional machine
Your regular conventional sewing machine has a lot of uses when sewing with knits. If you do not have a serger, you can sew your seams on a conventional machine, though it is best done with a "stretch" stitch.
Pictured above is the control panel on my machine I use at home. The stitches on the right are all to be used with woven fabrics, but the stitches on the lower left are the stretch equivalent to be used on knit fabrics. Your machine might not look anything like mine, but read your manual to see if you have stretch stitches as an option. They will look something like the icons on mine. These stitches are designed to stretch along with the seam, making sure the threads do not break when pulled. If you do not have stretch stitches, you can still sew knits on your conventional machine, but it is less than ideal.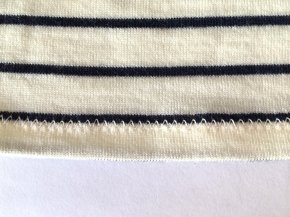 You can use a zigzag stitch for the seams, set to be long and narrow, but they will not stretch as well as an actual "stretch" stitch, and you might burst a hole in your seam if pulled on too much.
If you do not have a coverstitch machine, but need to hem your knits, you can use your conventional machine to sew a hem. The most basic is using a simple zigzag stitch (pictured above) on the hem. Even if you have a serger for the seams, you might choose this option for the hemming. You can also use a twin needle on your conventional machine to do a mock coverstitch, but some machines do not do this stitch well, and some knits don't take to a twin needle well either, so be open to testing and working with what your machine does best.
For any knit topstitching, this is best done on a conventional machine. Though there are moments when a coverstitch can do some lovely topstitching on necklines, but most of the time you would use your regular machine.
So for the most ideal knit sewing situation, you would have all three of these in your studio. But even with just a conventional machine, you can sew with knits! So do not be afraid and give them a try today!
See also:
Share this article
Related Posts