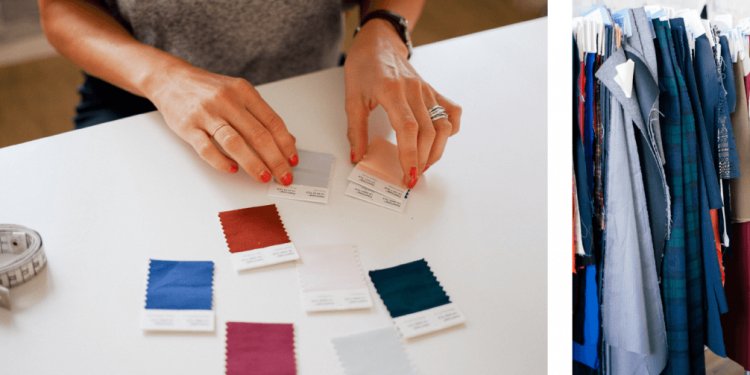 Best Clothing Manufacturers in China
Looking to design your own T-shirt or launch your a knitwear collection? Outsourcing to China, or other low cost countries, may be your only option. In this article, I explain what you need to know when selecting a clothing manufacturer, substance regulations, material quality and managing the product development and production process.
Regardless of whether you're an apparel startup looking to try out a new product line, or consider yourself the next Karl Lagerfeld, this article is packed with actionable advice for you. But first, I'll explain why buying wholesale clothing from China is rarely an option.
Buying wholesale clothing from China?
The Minimum Order Quantity (MOQ) of clothing and textile items is often 300 to 500 pcs, per design. That translates into a major investment, assuming you want to launch an entire collection. Many importers assumes that the solution to this is by skipping manufacturing, and purchase off shelf clothing from wholesalers.
Of course, there are clothing and textile wholesalers in China. In fact, there are tens of thousands of them. However, these wholesalers, trade items manufactured for the Chinese market. Take a look at Taobao.com (China's Ebay) and see for yourself. You can get a T-shirt for 2 dollars and a pair of jeans for the price of a Big Mac meal. But, China is not a magic land where basic economics don't apply. In other words, you do get what you pay for.
In fact, you might get a bit more than really want. At least in terms of regulated substances, such as Formaldehyde and AZO-colors. China's substance regulations are more lax than those in the west. Thus, buying wholesale clothing from China is rarely (if ever) an option, unless you are willing to risk having your items seized by customs – or face a forced recall.
Important factors when selecting a clothing and textile factory
Not all Clothing and textiles manufacturers are equal. Making a random factory selection online, without verifying that the supplier is able to reach your quality requirements, is likely to end up in disaster. Below follows an introduction to the three main factors that really matters, when selecting clothing manufacturers in China.
#1: Substance control and compliance with foreign textile regulations
Clothing textiles are regulated in most countries, including the United States, Europe and Australia. Most applicable safety standards, such as REACH (Europe) and FHSA (United States) regulate substances, such as formaldehyde, AZO-colors and asbestos. Most Chinese manufacturers, especially the smaller, are not aware of the substance content in their textiles.
It's a deeply rooted issue that goes way beyond the manufacturer. All clothing manufacturers purchase fabrics and components from subcontractors. The number of subcontractors can range from a two or three, to more than one hundred. Ensuring that no non-compliant fabric slips through requires the supplier to test a large number of samples, which most small factories consider too expensive and time consuming.
For importers based in Europe, America, Canada and Australia, it's critical to select a supplier that can show previous compliance with applicable substance regulations, and prove it. That's why we both include confirmation of applicable product regulations and labeling requirements, in your country, when you purchase the Starter Package. Click here to find out more.
#2: Textiles labeling requirements
Clothing and textile regulations are not only limited to substances, but also product and packaging labeling. These labeling requirements vary greatly between different countries. However, most countries require labeling to cover Country of Origin (Made in China), textile fiber content and washing instructions.
However, a supplier cannot really be compliant or non-compliant with labeling requirements. In fact, it's your job to design the textile label, and verify that it's compliant with applicable regulations in your country. The supplier's job is to print it. That said, they must be able to provide you with information about the textile fiber content and washing instructions.
#3: Fabric quality
Good suppliers provide high quality fabrics and bad suppliers provides low quality fabrics. Right? It's not that simple. A couple of years ago I learnt that myself, the hard way.
In 2011, we were tasked with managing the product development process of a new polo shirt collection for a European brand. They'd already selected a new supplier in the southern Fujian province to manufacture their new designs. It was a good supplier. Clean facility, long history, plenty of capital, modern machinery and a strict quality management system.
The client received the samples and testing begins. A few weeks of usage and washing later, it was clear that the material quality was far below the clients expectations. While they wanted to match brands like GANT and Ralph Lauren in terms of quality, this sample would go straight to an outlet.
Obviously, the client was upset about this, and we submitted a complaint to the supplier. They made another batch of samples. But the result was the same. This was when we realized that this may be a reliable supplier, yet unable to match our buyers quality requirements. It turned out that they were indeed specialized in making low end apparel, and pretty good at it too!
Before you get started, you need to get your fabric specifications in order. Never assume that a Chinese clothing and textiles manufacturer is specialized in making items matching your quality requirements, regardless of their technical qualifications.
Product development process
When you have selected a few suppliers (not only one, as explained further down in this article) it's time to put them to the test. Keep reading, and find out how to manage the clothing product development and production process:
Step #1: Design drafting, material selection and product specifications
Chinese manufacturers are entirely accustomed to producing items according to buyer specifications. While some suppliers offer design services, they will certainly not help someone design a new collection based on a random inquiry on their Alibaba website.
Before you even bother to contact manufacturers, you need to get your specifications in order. These include, but are not limited to, the following:
Design drafts
Design elements (e.g. collar)
Dimensions
Fabric type (e.g. 96% cotton and 4% spandex)
Fabric weight (e.g. 120 gsm)
Printing or embroidery (e.g. screenprint)
Pantone colors
Buttons (design, material)
Seams
Textile label (design files and dimensions)
Compliance requirements (e.g. AZO-free colors)
You may also complement a product specification with physical product samples, in case you intend to replicate a certain color, material or design elements of an existing product. However, certain components, such as buttons, are better left open until you know what the supplier has to offer.
In case you fail to provide sufficient product specifications, you are very likely to receive items of very poor quality. Misunderstandings occur easier than you could possibly imagine, and there's no universal definition of what "good quality" is. Nothing should be left out of your product specification.
Step #2: Sample development
This is when it get's interesting, but act with caution. First of all, it's way too early to make a final supplier selection at this stage. Instead, you shall select at least three or four suppliers that produce clothing samples simultaneously.
Share this article
Related Posts