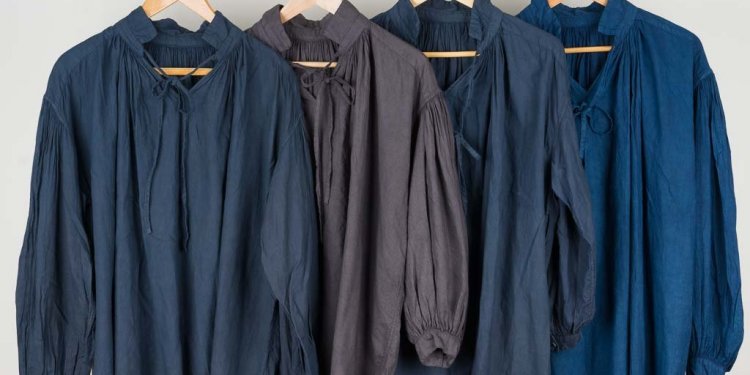 Process of dyeing Clothing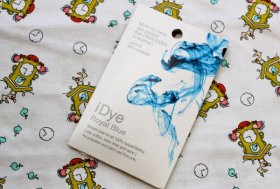 If you're looking for a way to freshen up your wardrobe, the answer might lie in a packet of fabric dye. Whenever I'm bored with a particular item of clothing that still fits and is in great shape, I think, "Hmm, what other color could this be?" Dyeing cloth is a great way to give new life to old favorites, or to custom color a fabric before sewing. It's easy, quick and cheap!
1. Choose your garment.
I would start with a solid colored garment first, since you're most likely to be pleased with the results. Most fabric blends will accept dye, including synthetics, like rayon and nylon-fiber blends that are at least 60% dyeable fiber. Natural fibers like cotton, linen, silk, wool and ramie are the most easily dyeable, in my experience.
There are some fibers that just won't accept dye, no matter how hard you try, like anything that's 100% acrylic, polyester or acetate.
Keep in mind that any plastic parts of the garment, like buttons and zippers, might not accept dye, either. So you'll need to swap these out to match the new color of your garment (or embrace the contrast).
2. Choose the right kind of dye.
Depending on the brand of dye, you'll need to select the dye based on the fiber content of your garment.
For example, RIT dye will work on natural or synthetic fibers, but iDye has separate formulas for natural and poly fabrics (for natural and poly blends you can use both formulas together). iDye also has a dye available specifically for items that will be laundered frequently.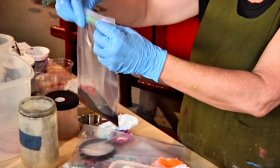 When shopping for dye, keep in mind which dyeing method works best for you. I prefer to dye things in the washing machine because I think the cleanup is a lot easier, so I try to avoid dyes that require the stovetop method.
3. Read the directions.
A little obvious, maybe, but each brand of dye is a little bit different, so make sure you familiarize yourself with the manufacturer's instructions. This will help you achieve the color saturation you're looking for.
4. Set up your workspace.
Have a plastic dropcloth or plenty of newspapers on hand, as well as paper towels to clean up any spills immediately. And be prepared to clean your sink and buckets or washing machine immediately to avoid staining and/or turning your entire closet the same color.
5. Don't be afraid to get creative!
Consider mixing a couple of shades of dye to create your own custom color, or layer a few different colors on top of each other. (Start with the lightest color dye for the best results.)
6. Caring for dyed items.
It's a good idea to wash your freshly dyed items by themselves for two to three washes. That way, if there's any residual dye bleeding it won't ruin other items being washed with it.
Learn to create seductively rich colors that won't run or fade with the Craftsy class The Art of Cloth Dyeing. Fiber artist Jane Dunnewold will guide you through each step of dyeing bonds to different fabrics, as you create beautiful multicolored patterns.
Learn for life! With lifetime access to your classes, you can watch lessons at your preferred pace and easily revisit your favorite concepts with just a click.
Kick up your feet! Enjoy classes anytime from the convenience of your home or even on-the-go with our mobile apps.
Get personalized guidance! Ask your instructor questions to receive all the answers and feedback you need to succeed.
Share this article
Related Posts