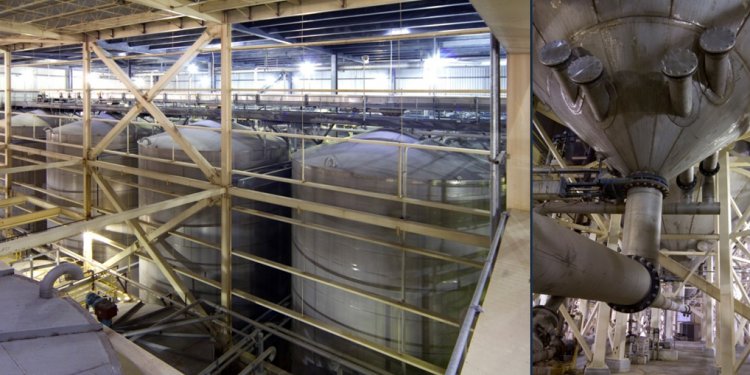 Spinning mill process
3. Action of Beaters
This is the action that is mostly responsible for removing impurities of Cotton in the Blow Room. Cotton fibres can be subjected to the striking action of Beaters in the following ways.
Striking the Cotton while being carried by Air Currents.
Striking the Cotton while being held by a pair of feed rollers or paddles & pedal rollers.
02. Carding
Carding is one of the most important operations in the spinning process as it directly determines the final features of the yarn, above all as far as the content of neps and husks are concerned. There are many objectives of the carding process and these can be summarized as:
Opening the tufts into individual Fibres.
Eliminating all the impurities contained in the Fibre that were not eliminated in the previous cleaning operations.
Selecting the Fibres on the basis of length, removing the shortest ones.
Removal of neps.
Parallelizing and stretching of the Fibre.
Transformation of the lap into a sliver, therefore into a regular mass of untwisted Fibre.
Carding Machine Diagram
And in this action you can see two actions. They are;
Carding Action
Stripping Action
1. Carding Action
When two close surfaces have opposite wire direction and their speed direction or relative motion is also opposite. Then the action between two surfaces is called carding action.
Functions:
It is occurred between flats and cylinder.
Maximum individualization of fibers is achieved in this region.
There always should be point against point action.
Carding Action
2. Stripping Action
When two close surfaces have same wire direction and their speed direction or relative motion is opposite then the action between two surfaces is called stripping action.
It is occurred between licker in and cylinder.
There are should be point against back action.
Individualization of Fibre is also by this action.
03. Draw Frame
This is the machine on which drafting & doubling are carried out. Carded sliver is that they are not even (uniform) enough to produce to good quality yarns. Therefore, usually all the carded slivers are subjected to Doubling & Drafting on a machine called "Draw Frame".
Doubling is the practice of feeding two or more strands to produce one Strand. To attenuate fiber laps to slivers, Drafting is carried out. Different methods are used to draft sliver or yarn. One method is called "Roller Drafting". During drafting the number of fibers in the cross section of the sliver or lap is reduce.
Draw frame
Tasks of Draw frame
Equalizing
Parallelizing
Blending
Equalizing: One of the main tasks of draw frame is improving evenness over short, medium and especially long terms. Carded slivers are fed to the draw frame have degree on unevenness that cannot be tolerated in practice and slivers from the comber contain the "infamous" piecing. It is obscured by draw frame.
Equalizing is always performed by a first process, namely doubling and can optionally also be performed by a second process, namely auto leveling. The draft and the doubling have the same value and lie in the range of 6 to 8.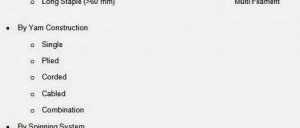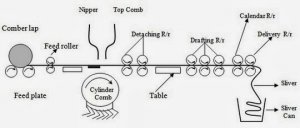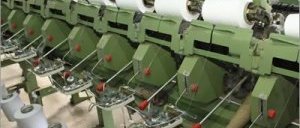 Share this article
Related Posts