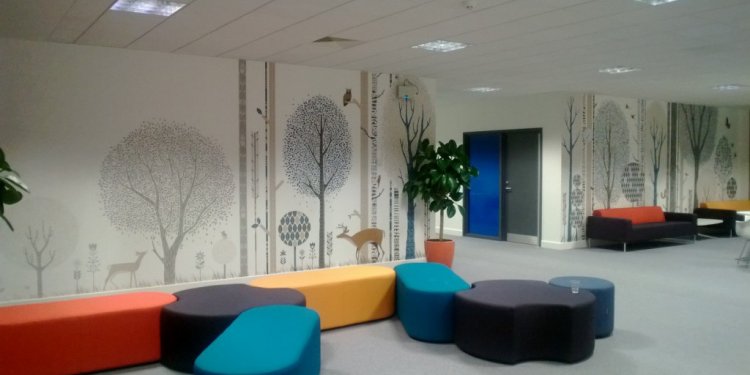 Digitally Printed Wallpaper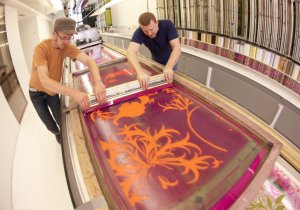 Flavor Paper produces wallpaper by hand screened and digital printing, sometimes both for special projects. In either case we use water based inks, latex or eco-solvent to be as green as possible and only the finest ground substrates. Eco friendly grounds are available for both processes as well.
All Flavor Paper is produced to order, so you are free to interchange colors and grounds with handscreened wallpaper and can choose scale and colors for digital wallpaper. It's your world. Get what you want.
Screen Printing
Flavor Paper is known worldwide for its mastery of the fine art of large format hand silk screening. We go from design to film to screen to wallpaper entirely in house to maximize quality control and creative freedom.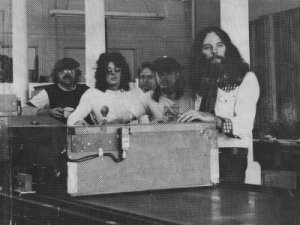 While maintaining the ancient hand pulled aspect of the craft, we also utilize technology to get the cleanest and most precise print possible. Flavor Paper uses only water-based inks without solvents, so your wallpaper never emits toxins or even scent (unless you opt for one of our scratch and sniff patterns!). In addition to our extensive ink library you can choose any of our standard grounds including traditional clay coated papers for a classic matte background, mirror-finish chrome or gloss mylars, matte metallics, textured metallic foils, holographic material, or durable vinyls for bathrooms and high traffic areas. Since we allow you to mix and match any of these components, making any handscreened pattern your own is a snap.
We print all of our wallpaper to order to minimize waste and allow you this level of customization without extra cost or lead-time.
All handscreened Flavor Paper trims to 27"" wide, but is sold untrimmed as 15'' long single rolls. We print and package in triple 45' rolls for larger wall installations.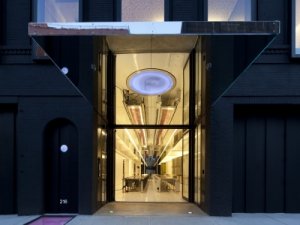 Digital Printing
Advances in wide format digital printing have made it possible to create magnificent digital wallpaper and Flavor Paper is ahead of the curve. We print at 52" wide with water-based latex ink on eco-friendly Class A grounds like Nolar and Terralon (PVC-free, recyclable, breathable, FSC sourced) and eco-friendly water activated Pre-pasted (PVC-free, FSC certified, 10% recycled content, mold and mildew resistant) for easy installation and removal. We also print at 52" wide with eco-solvent inks on Type II textured vinyls like Plater and Silky canvas.
We think the beauty of digital wallpaper lies in the ultimate scaleabilty and vast color range, especially with large scale murals. We adjust the size of the print to fit your specific wall by breaking up the image into strips according to the layout. There is very little overage required and seams disappear for a clean, beautiful look. Colors and backgrounds can be tweaked to your specifications from solid color, wood grain, paint drips to camouflage. We have a broad range of pattern and mural options or we can turn your idea, image, or inspiration into any type of wall covering.
Share this article
Related Posts