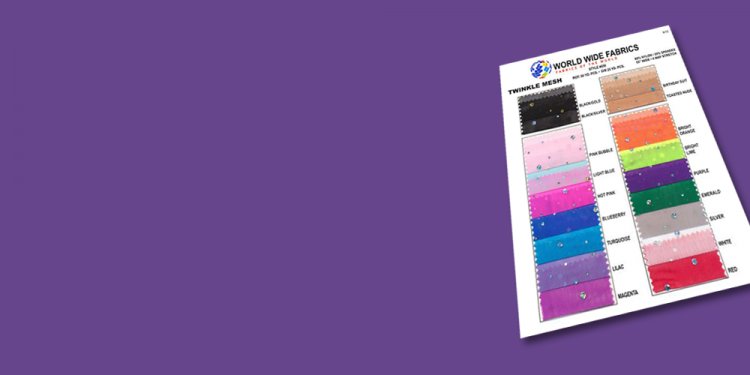 4 way stretch Sequin fabric
Ordering & Delivery
Wholesale
Fabric Questions
Company Questions
Ordering & Delivery
Q. What is the minimum fabric order?
A. The minimum order amount is 10cm. Our ordering system uses this as the default minimum order quantity. Remember, if you require 10cm then order 0.1 metre. If you require 1 metre, then order 1.
Q. How long will it take until I receive my order?
Generally we use Express Post for every item delivered in Australia. For capital cities this means that you will receive your order the following day. If you are in a regional zone your order may take a few days to be delivered. For urgent performances and fabric emergencies (we understand the challenges of productions), contact us to discuss courier options.
Q. What is the cut-off time to place an order for the next day delivery option?
Provided you pay online at the time of purchase, any order placed prior to 1pm weekdays (Brisbane time) will generally be processed the same day.
Q. Do you ship outside Australia?
A. Yes. And European customers can access our UK website for faster shipping and local shipping rates here.
Q. Do you offer gift vouchers?
A. Yes – our gift vouchers are the perfect present for any dance parent or dance teacher. Just pick one up in store or buy a gift voucher online.
Wholesale
Q. Are you able to supply wholesale rates?
Orders from dance schools, individual seamstresses and one-off bulk orders all are payable at standard retail rates.
However, if you are a large commercial garment manufacturing business, with ongoing ordering requirements and a minimum spend of $1000 or more per month, then you may qualify as a Glitter and Dance wholesaler. Contact us to be sent a detailed list of our wholesaler requirements and to apply to be considered as a wholesaler.
Fabric Questions
Q. What is the difference between 4 way and 2 way stretch?
A. This is one of those interesting quirks of language between countries. The terms actually mean the same thing. In Australia we call our stretch fabrics 2-way stretch, whereas in America they call it 4-way stretch. It all depends on the country of origin of the fabric. If you are not sure if the fabric will do what you need, contact one of our Costume Gurus.
Q. What is the difference between Lycra and Spandex?
A. Lycra is a registered trademarked thread, and Spandex is the same thread but does not have the trademark. They are essentially the same product and come in different weights. The Lycra we sell has a Sun Protection Factor of 50+ whereas the Spandex does not.

Q. How do I best wash my fabric?
A. We recommend dance fabrics be hand washed in cold water with no or very mild detergent.
Q. Is there special fabric for sublimation?
A. Yes - we have this listed under the sublimation tab in our store. Normal white Spandex/Lycra does not give the same results. 
Q. Can I iron on motifs onto stretch materials? A. No you cannot iron motifs onto Lycra/Spandex as it will melt the material.
Q. Do I need a special thread to sew stretch fabrics?
A. Your normal needles and thread are all you need.
Q. How do I sew fabrics that have sequins on them to avoid breaking needles?
A. We recommend using a heavy denim needle.
Q. Is there a trick to sewing vinyl to stop it from sticking?
A. We recommend using baby powder on the shiny side to stop it sticking while sewing.
Q. Which way do I cut velvet to get the best sparkle?
A. All velvets need to be cut out with the smooth side running down the body.
Q. I have seen a fabric on an overseas website and am interested in getting it in Australia. Can you source it?
A. We are able to source all types of fabrics from around the world. Just contact us and we will try and get it in for you. And if we can't source the fabric or if it has been discontinued, we may be able to have a nearly identical one made for you.
Q. What is the difference between Nylon Net and Bridal Tulle?
A. Nylon Net is a stiff netting used for performance tutus, whereas Bridal Tulle is soft tulle used for romantic tutus.
Q. Why are some fabrics cheaper on other websites?
A. We only supply top quality, trademark registered fabrics. These fabrics are of the highest quality and are used for top athletes and performers around the world. You can often find cheap imitation fabrics, but they are not made to the same high standard as our fabrics, and will not last as long or look as good on stage. Often you will find with cheaper fabrics that foils come off with wear, or they show sweat marks on stage, or they droop or stretch. If you are looking for fabrics that stand-up to the most rigorous performances, then you need to invest in quality fabrics.
Q. Are you able to help me design a costume with your fabrics?
A. Yes, we often work with teachers, students and mums to help design their unique costumes. We also have costume patterns for sale, and can advise on how to sew them up if needed. All you need to do is book in a time with one of our Costume Gurus to make sure a team member is available for you.
Q. I have other questions about sewing your fabrics, caring for your fabrics or placing an order - who should I contact?
A. We are here to help. Please call us on 07 3849 2269 or drop us a line using our Contact Form.
Company Questions
Q. Are you really a family owned Australian business?
A. Yes. Carly and Cassandra are Kerry's daughters and together we form the Glitter and Dance creative team.
Q. Are you aligned with Glitter and Dance in Melbourne?
A. No. They are a totally different company (that happens to have the same name as us). We are not aligned or affiliated with them in any way, and do not stock any of their fabric ranges.
Share this article
Related Posts