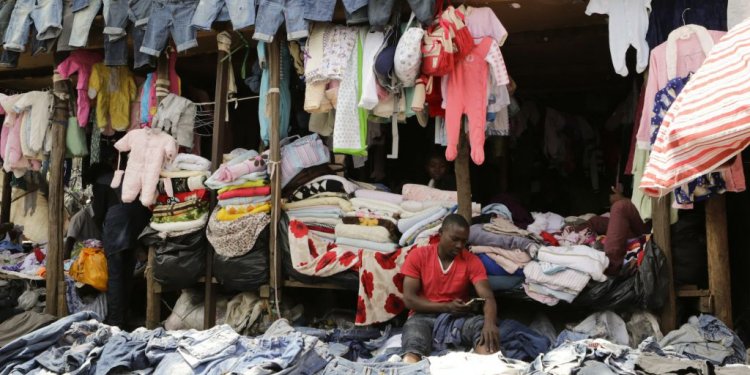 Chinese textile companies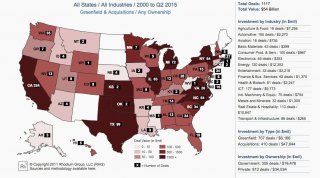 Now it seems China is beginning to return the favor. In an increasingly common role reversal, companies such as the Chinese textile producer Keer Group are outsourcing production to places where the energy, raw materials, and labor are cheap and convenient—places such as Indian Land, South Carolina, where the New York Times visited the company's new 230, 000-square-foot spinning mill.
"During our search, South Carolina quickly rose to the top of our list, " Zhu Shan Qing, chairman of Keer Group, said in a 2013 announcement about the mill. "We chose to locate our first US facility in South Carolina for a number of reasons, which include the state's workforce, proximity to cotton producers and access to the port."
Wages for workers in South Carolina are still higher than those in China, reports the Times, but are offset by subsidized cotton, tax breaks, and cheaper energy.
Thilo Hanemann, who monitors Chinese foreign investment at the New York research firm Rhodium Group, says Keer's 8 million mill is just one example of a recent spate of Chinese firms outsourcing production to the US. Another Chinese firm recently established a polyester plant, where fibers are made out of recycled drink bottles, in South Carolina.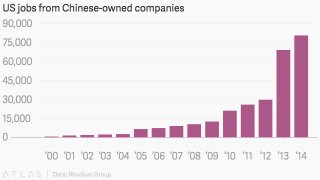 It's one of at least 20 Chinese-owned manufacturers to call the Carolinas—once a seat of American textile spinning and weaving—home. Rhodium's research shows that South Carolina in particular has benefited from businesses providing basic materials such as cotton yarn, as opposed to energy or communication technology.
(Rhodium Group)
And although Hanemann writes that this is by no means a manufacturing boom, it's worth noting that manufacturing now accounts for a third of Chinese direct investment in the US, and the number of jobs from Chinese-controlled companies in the US is rising fast.
Keer's cotton is grown and spun in the US, but it's still unlikely it will end up in clothes carrying a "Made in the USA" tag. Still, the yarn could benefit from its American origins. Keer currently ships to textile and garment producers in Asia, but the Times reports the company intends to sell yarn to manufacturers in Mexico, Central America, and the Caribbean as well, enjoying favored status thanks to current trade pacts, and potentially making good on the pending, 12-country Trans-Pacific Partnership (of which China is not a part) down the road.
Share this article
Related Posts