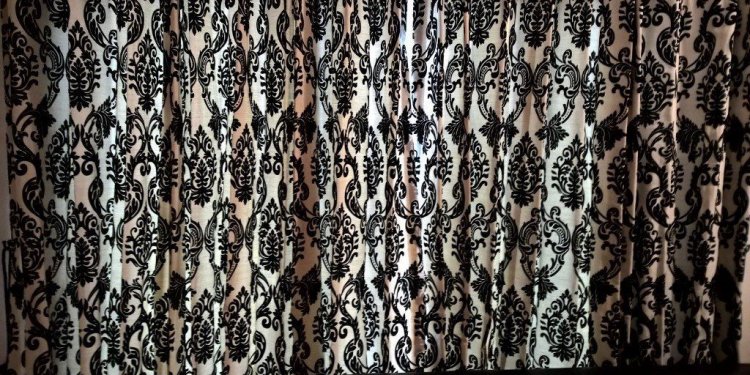 Velvet Brocade Fabric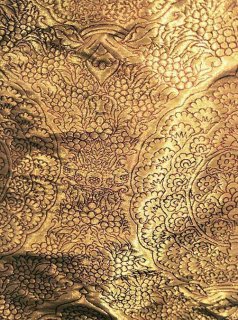 Prime Visual Characteristics of Brocatelle:
1. Raised pattern - high relief
2. Usually multicoloured
"This is a lampas with a silk main warp and a main weft, generally in linen. The pattern is obtained with a silk pattern weft, bound twill by a binding warp. The varying tensions of the warps create a distinctive relief effect, in which the areas in satin are raised and are seen as a pattern. This is a typical fabric used in home furnishing; it came in fashion in the sixteenth century". (Landini & Redaelli 2)
"Fibre: Silk, rayon, cotton, and syntheticsCharacteristics: Originally supposed to be an imitation of Italian tooled leather - satin or twill pattern on plain or satin ground. It is recognized by a smooth raised figure of warp-effect, usually in a satin weave construction, on a filling effect background. True brocatelle is a double weave made of silk and linen warp and a silk and linen filling. Present-day materials may have changed from the XIIIth and XIVth Century fabrics, but they still have the embossed figure in the tight, compact woven warp-effect. While brocatelle is sometimes classed as a flat fabric, it shows patterns which stand out in "high relief" in a sort of blistered effect." (Textile Dictionary)
"A heavily figured furnishing or upholstery cloth similar to brocade. The pattern is padded out into high relief by the warp threads in a satin weave against a closely woven background structure. Two or more wefts are used and, in the better qualities, there is an extra binder warp. Heavy yarns used are plain and mercerised cotton, viscose, and linen." (Resil Textile Dictionary)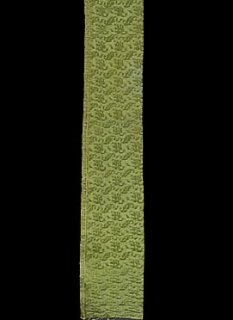 "A heavy brocade with the design in deep relief, used chiefly in upholstery. [ETYMOLOGY: 17th century, from Italian broccatello, diminutive of broccato - brocade(d). (WordReference)
"-thin tinsel, or slight cloth of gold or silver" (Florio)
Cloth of gold reproduction fabric used in reconstruction of "Golden Gown", Uppsala Cathedral (copyright Lynn Meyers)

1. Cloth of Gold (reproduction)

Original was red silk lampas brocaded with silver-gilt lamella thread, North Italy, c1400-1440
2. Cloth of Gold

Cisele Velvet brocaded with metal threads
North Italy
c1600
Prime Visual Characteristics of Cloth of Gold or Silver:
1. Predominance of Gold or Silver or an alloy metal thread in the fabric
2. Woven together with a fibre, usually silk, which forms the pattern
There were various weaves incorporating gold, silver or gilt metallic threads. One such was restagno, which was "a delicate cloth woven with gold and silver, manufactured in Venice and exported to the Orient". (Lawner) The "Golden Gown" located in Uppsala Cathedral (dated to 1400-1440) was made from a north Italian figured lampas weave - a red silk brocaded with gold. (Geijer) Brocaded velvets, if the gold content was substantial, were sometimes referred to as cloth of gold, such as in the above picture of a cisele velvet.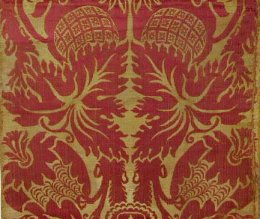 The "threads" themselves could be either pure metal, or a gilt metal."The earliest gold threads used in textiles were not threads at all but thin strips of metal which had been cut from sheets of beaten or rolled gold. These strips (filé or lamella) were then woven into a textile (most commonly as a supplemental brocade weft..." There were also spun threads, made by winding the flat strips around a core fibre, which resulted in a much more flexible fabric. Cores were made "commonly (from) silk, although linen was also used. More unusual cores are also known; including wool, horsetail hair." (Barrett) Venice obtained the metal threads used in its textiles from Sicily and Cyprus. (Tilton)
Damask

Silk
Circa 1580
Italy
Prime Visual Characteristics of Damask:
1. Pattern appears matte on a shiny background
2. Usually self-coloured (single colour) and reversible

"This is a figured fabric that has just one warp and one weft, with motifs created by the opposition of two different weaves, generally the front and back of the satin. This fabric is used in furnishings, but with specific patterns; also used widely in apparel." (Velvet)
"Very old type of figured fabric, first made of silk in Damascus...the fabric has satin floats on a warp satin background; the surface design runs in the opposite direction from those in the background.a figured fabric made with one warp and one weft in which, generally, warp-satin and weft-sateen weaves are used. Made in different fibres and weights. Used mostly for furnishings, table linen, towels. Rarely found now as a dress fabric. Most damask is self-toned, i.e. the warp and weft are in same colour; the design creates the interest." (Resil Textile Dictionary)

"A reversible fabric, usually silk or linen, with a pattern woven into it. It is used for table linen, curtains, etc [ETYMOLOGY: 14th Century: from Medieval Latin damascus, from Damascus, where this fabric was originally made] (Word Reference)
Lampas (It: Lampasso)
Prime Visual Characteristics of Lampas:
1. Satin-like pattern on a rep ground
2. Usually elaborately patterned and multicoloured
"A fabric similar to brocade.a woven fabric with a rep (a transversely corded surface) ground and a satin-like pattern formed by the warp yarns. A contrasting effect is achieved, too, with the weft yarns so that the same colour appears in the pattern as in the background. Very elaborate designs are produced. It is a heavy fabric, usually made now of cotton, viscose, acrylic or mixtures. Used for curtains and furnishings. In some cases the wrong side is often attractive enough not to need lining." (Resil Textile Dictionary)
"This is a figured fabric that has just two warps and at least two wefts. The ground warp works with one main weft, while the pattern is established by floats of pattern or brocading wefts, bound by the ends of the binding warp (in a binding system), usually tabby or twill." (Velvet)
"A worked material where the design is created by means of a float of base or supplementary trams usually bound in tabby or twill with the threads of a binding chain." (Glossary, L'Arte Tessile)
"An ornate damask-like cloth of cotton or silk and cotton, used in upholstery. [ETYMOLOGY: C14 (a kind of crepe): probably from Middle Dutch lampers". (Word Reference)
Prime Visual Characteristics of Velvet:
1. Piled fabric - either with loop pile (uncut) or tufted pile (cut)
2. Today it is most commonly found as a solid cut velvet, but many types were available in period
Velvet available in the sixteenth century could be either one, or a combination of, the following:
- cut velvet (tufted pile) It: Veluto
- uncut velvet (looped pile) It: Veluto riccio
- cisele velvet (pile comprised of both tufted pile and loop pile)
- pile-on-pile velvet (velvet comprised of varying heights of pile) It: Altabasso or Soprariccio
- polychrome velvet (multiple piles in two or more colours)
- voided velvet (no-pile background, pattern in cut or uncut or combination piles) It: Veluto figurato
- brocaded velvet (with introduced gold and silver wefts). It: Veluto figurato/broccato
Another method of decorating the velvet was known as stamping or gauffering, which if done was usually done on solid cut velvet.
"A fabric of silk, cotton, nylon, etc., with a thick close soft usually lustrous pile. [ETYMOLOGY: C14 veluet, from Old French veluotte, from velu hairy, from Vulgar Latin villutus (unattested), from Latin villus shaggy hair] (WordReference)
Types of Velvet Available in the Sixteenth Century:
This term is often incorrectly used for voided velvet. That which we most often associate with the word velvet - a tufted pile fabric - is cut velvet. The word cut refers to the cutting of the loops from which the pile id formed. In period made exclusively from silk.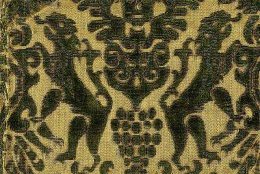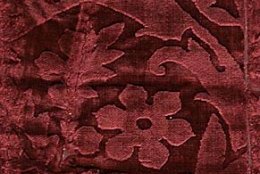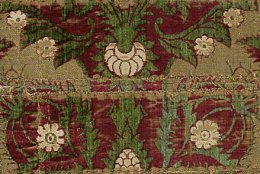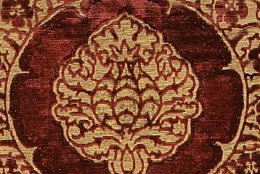 Share this article
Related Posts