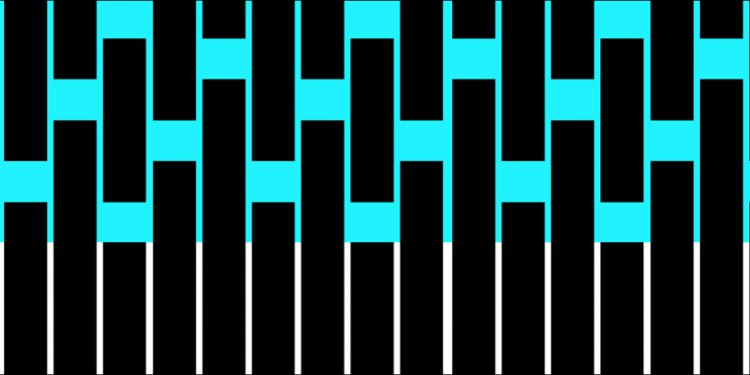 Satin weave characteristics
Could you review the different types of cotton sheets and thread counts? There are so many types of cotton - some like sandpaper and others like silk. What is the difference between combed cotton, Egyptian, percale, supima, and sateen? -Donna Coppola, Basking Ridge, NJ
Shopping for bed linens means being confronted with a maze of options: Egyptian or Pima? Percale or sateen? Learning to decipher these terms will help you choose the sheet that makes you the most comfortable. There are three factors that determine the quality and feel of a sheet: The fiber from which it is made, how the fabric is woven, and the thread count.
The most common fiber for bedsheets is cotton, and there are three main varieties: American Upland, Pima, and Egyptian. American Upland is the most widely used cotton and can be short- to long-staple ("staple" refers to the length of the individual fibers). If a label only reads "100 percent cotton, " it is likely to be American Upland. Pima is a fine, long-staple cotton that yields a very soft weave. The word "Supima" often appears on the labels of Pima sheets as a trademark of the Supima Association, which promotes Pima cotton. Egyptian cotton is the finest, longest-staple of all. Grown in the Nile River Valley, Egyptian cotton produces an extremely soft and supple weave.
Other fibers commonly used for bed linens are linen and silk. These are more luxurious and considerably more expensive than cotton and require special care in cleaning, but can be a worthwhile investment. High-quality linen sheets are durable enough to last for decades and are cooler than cotton, so they are especially popular in warm climates. Silk sheets, when properly cared for, are also durable and ideal for keeping warm in the winter.
Words such as oxford, percale and sateen on sheet labels refer to the way the fabric is woven. Each weave has different characteristics. Oxford, a weave first produced in nineteenth-century Scotland, is soft and heavy. It has twice as many warp threads - threads that run lengthwise - as weft threads - those that run widthwise. Commonly used to make men's dress shirts, oxford cloth stands up very well to laundering. Percale is a plain-weave fabric, meaning that the warp and the weft threads cross over and under each other one at a time. The threads are tightly woven, which results in a fine texture and finish. The wordpercaleis derived from pargalal, a centuries-old cloth from Persia. Sateen sheets have a luxurious look and feel. The fabric is made in a satin weave, in which warp threads interlace with filling threads, resulting in a lustrous, smooth-faced, durable fabric.
After determining the fiber and weave, you should always check the thread count, which refers to the number of threads woven per inch. In general, a sheet with a higher thread count will be more durable and feel softer. A thread count of 200 is a good standard; a count of 300 will be noticeably softer.
While all of these factors should be taken into account when choosing sheets, ultimately, your personal preference is most important. The best test will come when you take your sheets home, wash them, and sleep on them for a while.
See also:
Share this article
Related Posts