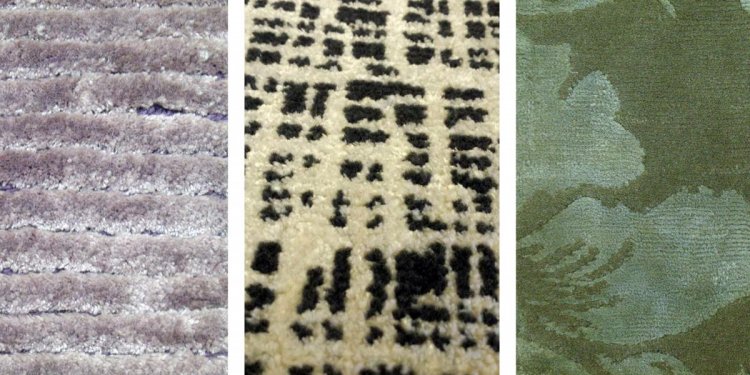 First manufactured fiber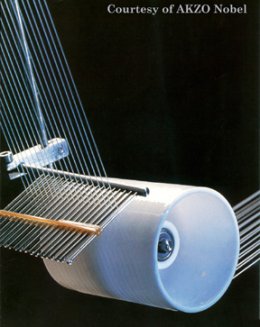 • •
Manufacturing:
Synthetic and Cellulosic Fiber Formation Technology
Most synthetic and cellulosic manufactured fibers are created by "extrusion" — forcing a thick, viscous liquid (about the consistency of cold honey) through the tiny holes of a device called a spinneret to form continuous filaments of semi-solid polymer.
In their initial state, the fiber-forming polymers are solids and therefore must be first converted into a fluid state for extrusion. This is usually achieved by melting, if the polymers are thermoplastic synthetics (i.e., they soften and melt when heated), or by dissolving them in a suitable solvent if they are non-thermoplastic cellulosics. If they cannot be dissolved or melted directly, they must be chemically treated to form soluble or thermoplastic derivatives. Recent technologies have been developed for some specialty fibers made of polymers that do not melt, dissolve, or form appropriate derivatives. For these materials, the small fluid molecules are mixed and reacted to form the otherwise intractable polymers during the extrusion process (if you are interested in the latest information on extrusion, click here to go to the PolySort chat board on the topic).
The Spinneret
The spinnerets used in the production of most manufactured fibers are similar, in principle, to a bathroom shower head. A spinneret may have from one to several hundred holes. The tiny openings are very sensitive to impurities and corrosion.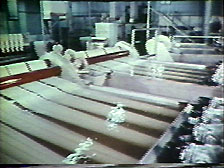 The liquid feeding them must be carefully filtered (not an easy task with very viscous materials) and, in some cases, the spinneret must be made from very expensive, corrosion-resistant metals. Maintenance is also critical, and spinnerets must be removed and cleaned on a regular basis to prevent clogging.
As the filaments emerge from the holes in the spinneret, the liquid polymer is converted first to a rubbery state and then solidified. This process of extrusion and solidification of endless filaments is called spinning, not to be confused with the textile operation of the same name, where short pieces of staple fiber are twisted into yarn. There are four methods of spinning filaments of manufactured fibers: wet, dry, melt, and gel spinning.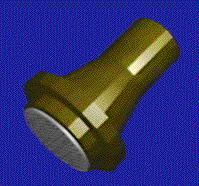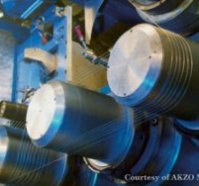 Share this article
Related Posts