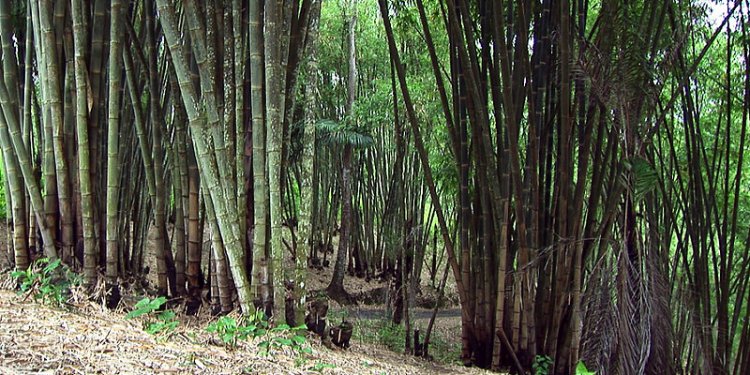 Woven fabric for baby wrap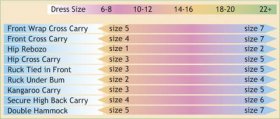 Welcome to the wonderful world of woven wraps! It can be overwhelming when you are starting out but let me try to break things down for you a little!
A woven wrap is a long piece of fabric woven specifically to carry a baby. A wrap is one of the most versatile carriers. It is one that will grow with your baby and can be worn on the front, hip and back. You can even nurse in a woven wrap. Woven wraps are specially woven to have exceptional performance as baby carriers, offering strength, breathability, the perfect amount of diagonal stretch, and the right texture for holding a baby securely. They are individually adjustable and if used properly, a wrap will always support your child in the correct healthy spread squatting position, regardless of being worn in front, back, or on your hip.
Anatomy
Most woven wraps are cut in the shape of a parallelogram with tapers. The tapers at the end make it easier to tie a knot. Woven wraps without tapered ends make for bulky wraps. The top and bottom longer ends are hemmed and are called rails as they connect and help move the fabric around as you are wrapping. The horizontal threads along the length of the wrap are the warp threads. The vertical threads across the width of the wrap are the weft threads.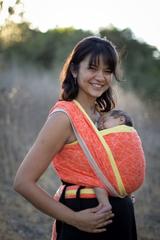 The weft can be woven in different color threads. This usually adds a layer of color to the wrap.
Sizes
Woven wraps are measured in meters and are available in 8 different sizes. The size of a wrap is the length from one end/rail including tapers.
Size 1 - 2.2m (7.2ft) rebozo
Size 2 - 2.6m (8.5ft) shortie
Size 3 - 3.2m (10.5ft) shortie
Size 4 - 3.6m (11.8ft) mid-length
Size 5 - 4.2m (13.8ft) mid-length
Size 6 - 4.6m (15.1ft) standard
Size 7 - 5.2m (17.1ft) long
Size 8 - 5.6m (19.7ft) long
Width
Most woven wrap are about 70cm (28 inches) wide. There may be some slight variations in length and width depending on the brand.
Size Recommendations
Most people can start out with a size 5 (4.2m) or size 6 (4.6m). I recommending trying out the different sizes and using the shortest size you can use to do a basic front carry like a Front Wrap Cross Carry (FWCC). This will be your "base" size.
This is a great guide by Oscha Slings on some basic carries and the wrap size you may need.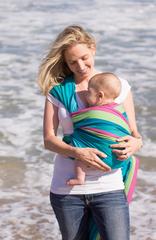 (Click to make larger)
How to use your woven wrap
Woven wraps can be tied in an unlimited number of ways also referred as carries. Here are some tips and some of my favorite videos to get you started using your wrap.
When you are starting out it helps to practice in front of a mirror you can see how the fabric moves as you are adjusting.
Babies are not always very patient when you are learning a new carry. Try practicing with a doll first until you build muscle memory and are able to wrap a little faster.
When doing back carriers stand in front of soft surface like a bed or a couch and have someone else spot you until you feel confident doing it yourself!
**Please note that this is just a guide to give you an idea of how you can use a wrap and does not take the place of a in person consultation or professional hands on help. Please schedule a consultation or register to take a class to learn more!
Share this article
Related Posts