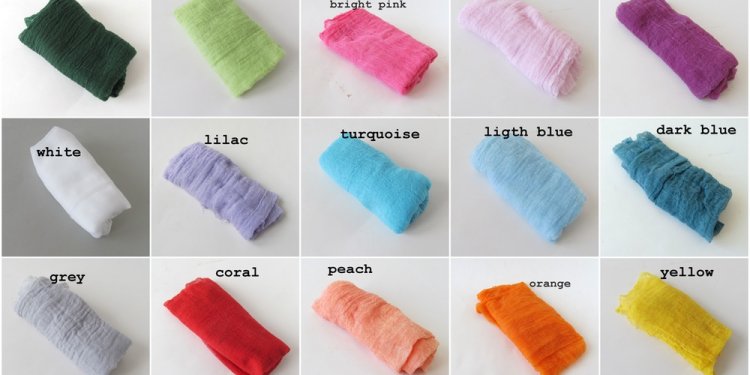 Cotton Gauze fabric for baby wrap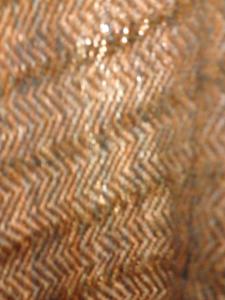 You don't want anything too stretchy – no cotton jersey, or what you think of as t-shirt material. While this will make an awesome DIY Moby, it's too stretchy to be safe in a back carry.
And be sure your fabric is not too thin. Think of your bedsheet – normal, not flannel. Go fondle it some to get a feel for the fabric. Got it? You need something thicker. While you can feasibly use something like it, it will dig and sag and hurt and cut off baby's circulation. A lot of mamas try to use a thin muslin or quilter's cotton. The only case in which thin fabric works well is in a kanga carry*.
So you want something of at least medium-thickness: in the fabric trade, they call that "bottom weight". It should have a bit of diagonal stretch. If held up, some light should pass through the weave; however, in most cases, you shouldn't be able to see through it easily – your fabric ought to be semi-loosely woven, but not sheer.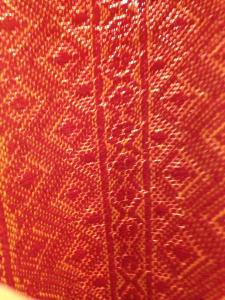 Many mamas use is a loosely woven, cotton fabric usually sold undyed and unbleached, with what wrappers call "nubs" and "slubs" – thicker threads throughout the weave that are not considered flaws. It's often sold quilted and unquilted varieties – you want the unquilted stuff – and sometimes in 45 inch widths. Since a woven wrap usually requires a 30 inch width, accounting for shrinkage, you need at least 72 inches of width for two wraps. Many mamas choose to dye their osnaberg. If you go that route, check out the safe dyeing thread on The Babywearer.com forums (you'll need to register) for tutorials and advice. Osnaberg, like linen, is a notorious shrinker – buy extra. Many mamas have bought 7 yards and ended up with a generous size 6 (about 4.6-5 yards).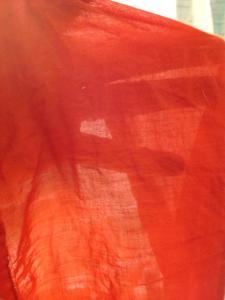 Other kinds of fabric to look for include thicker jacquard and damask, both terms for patterned weaves that don't have a wrong side (as opposed to printed patterns, in which one side of the cloth is white or solid-colored). I often find great examples of these in the upholstery and home decor fabric sections, but you'll need to double-check that your fabric isn't a poly-blend, and that it's not too thick. If it feels too heavy to mold over your shoulders, keep looking.
Many wrappers adore bottom-weight linen, which, with the advent of Oscha and Wrap Nap Fairy's 100% linens, is about as close to a purpose-woven as you can DIY (unless you go buy the exact same cloth as Heartiness's machine-woven ethno from this dude on etsy). Linen makes a solid wrap without much bounce; it'll stay where you put it, so wrap carefully. Many mamas love it for older kids and hot weather. I have my own 100% linen DIY. It breathes well, but it calls for slow and precise wrapping. If you buy linen, though, be warned: it shrinks a lot, so snag plenty of extra – up to 2 yards above your intended length.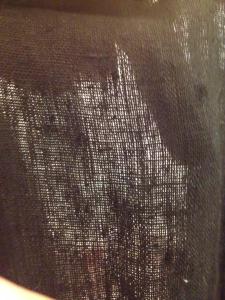 Cotton gauze is another popular DIY choice, used for many WAHM wraps (babyette and lil peepers keepers, both etsy sellers, made their names with gauze) and Bali Breeze purpose-wovens. Gauze is lightweight. It's cheap. And it works well for little babies in hot weather. It requires super-careful wrapping to avoid pressure points, however, and digs in your shoulders after baby passes somewhere around twenty pounds. I learned to wrap with thin gauze, and I found it a marvelous teacher – because it's quite unforgiving of sloppy wrapping. A mama who's just starting will be far more comfortable in something cushier, unless she's super careful.
Basically, you need to grope a lot of cloth. Pull it. Stretch it. Pet it. Remember, this stuff wraps around you and your baby – you need to love it! If it's not perfect, move on. Many new wrappers turn to DIYs because of a condition I call "Didymos Sticker Shock". But if you buy two DIYs that don't work, you're 50 to 75 bucks in the hole, without a wrap, when you could have dropped another 25 dollars for a used Didy that would hold resale value (though quality DIYs do sell on the facebook swaps). I did this in the beginning. I wish I had saved the money and just bought a damned purpose-woven.
Share this article
Related Posts