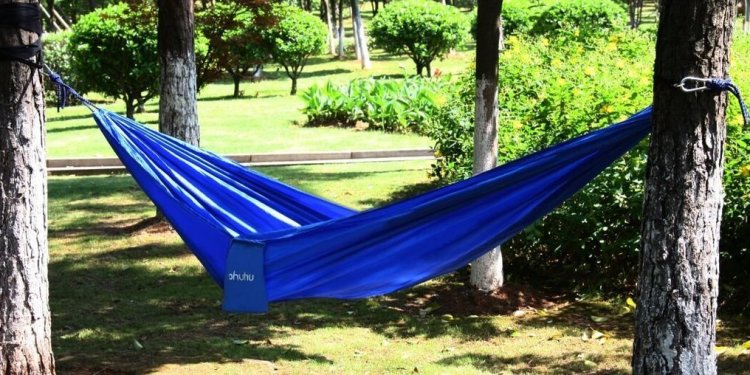 Where does nylon fabric come from?
It used to be the rule of thumb that man-made fabric comes from chemicals while manufactured fabric comes from a natural source. So manufactured fabric would include fabric like bamboo and rayon that come from wood pulp and man-made fabric that come from a chemical source would include fabrics like nylon, acetate and polyester that come from petroleum-derived chemicals and plastics. However, the industry now uses the term Manufactured Fabrics (MF) for all of these fabric types.
It's also interesting that some fabrics live in both the natural and the chemical world. For example, latex can be from either natural or chemical origin; Synthetic latex comes from chemical ingredients and natural latex comes from the rubber tree.
How Manufactured and Man-made Fabric is Made
These fabrics are usually made of filaments extruded as liquid and formed into various fibers. Because the fiber starts as a liquid, many of the fibers are colored before they become filament, thus they are difficult to dye after the fiber is woven into a fabric.
Types of Manufactured and Man-made Fabric
ACETATE is not a strong fiber but can be extruded into fibers of different diameter and woven into fabrics that have the luxurious look of silk but do not wear like silk. Acetate does not absorb moisture readily but dries fast and resists shrinking. This is a resilient fabric that resists wrinkling in addition to being pliable and soft with a good drape. Triacetate is an improved acetate fabric which doesn't melt as easy and is easier to care for. Remember, acetate in nail polish and nail polish remover will melt acetate as will alcohol so take care with perfumes and nail products including SuperGlue.
ACRYLIC is a fine soft and luxurious fabric with the bulk and hand of wool. Light weight and springy, this fabric is non-allergenic, dries quickly, draws moisture away from the body and is washable. Acrylic does not take even a moderate amount of heat. Modacrylics are used in pile fabrics like fake fur and are more flame resistant.
LASTEX is an elastic fiber made from Latex. It is most often used with other fibers to create fabrics such as Spandex and foundation garments. Lastex will deteriorate after repeated washing and drying, losing its elasticity.
NYLON became a household word in 1940 when it was knitted into hosiery. In 1942 it was called into service for the armed forces use in parachutes, flak vests, combat uniforms, tires and many other vital military uses. Until the war was over nylon was not available to the public. Nylon became one of the most versatile fibers of the man-made fabric family. In addition to hosiery, nylon is used in tricot, netting for bridal veils, and in carpeting.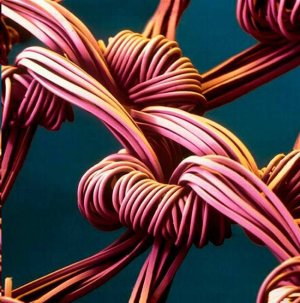 Nylon is stronger yet weighs less than any other commonly used fiber. It is elastic and resilient and responsive to heat setting. Nylon fibers are smooth, non-absorbent and dry quickly. Dirt doesn't cling to this smooth fiber nor is it weakened by chemicals and perspiration. Extensive washing and drying in an automatic dryer can eventually cause piling. Nylon whites should be washed separately to avoid graying. This fabric may yellow so it should be bleached frequently with sodium perborate bleach.
Nylon melts at high temperatures. If ironing is necessary, always use a low temperature on the wrong side.
POLYESTER is a strong fiber that is resistant to crease and thus keeps it shape. Polyester melts at medium to high temperatures. Although many people dislike polyester, perhaps due to the double knit fad of the 1950's, polyester remains a versatile and important man-made fabric. Blends of polyester give cotton a permanent press property and extend the wear of these blended garments.
Polyester is manufactured in many weights including fiber-fill used in pillows and upholstery. Threads spun from polyester fibers are strong, wear exceptionally well, and are used extensively in home sewing and manufactured sewing.
RAYON, from cellulose, has many of the qualities of cotton, a natural cellulose fiber. Rayon is strong, extremely absorbent, comes in a variety of qualities and weights, and can be made to resemble natural fabrics. Rayon does not melt but burns at high temperatures.
Rayon drapes well, has a soft, silky hand, and has a smooth, napped, or bulky surface. Rayon will wrinkle easily and may stretch when wet and shrink when washed.
Technological advancemnts to the rayon process have produced high wet modulus [HWM] rayons such as lyocell and modal which makes fabric less prone to stretch when damp or wet.
Washable rayon will state the care on the fabric label. Like silk, if you pre-wash rayon fabric prior to construction of the garment, you have a washable garment.
Fibranne is French term for Viscose rayon.
Velvet, although made from silk, is most often produced from the rayon fiber.
SPANDEX is an elastic type fiber that can be stretched many times its length and then spring back to the original length. Spandex is more resistant to washing, perspiration, and heat than latex. Spandex is used in foundation garments and hosiery.
Share this article
Related Posts