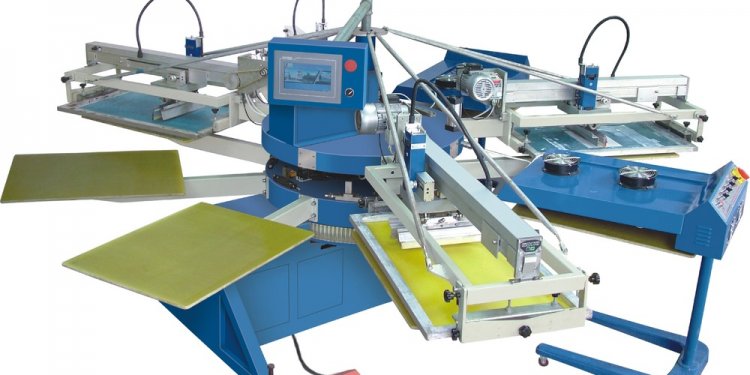 Textile Screen printing machine

In this day and age there are tons of options out there. Each one's different, and has its own characteristics. Direct to Garment (DTG) and screen printing are among the most popular options, and certainly the more qualitative (leaving behind vinyl and heat transfers). Find out which is most suitable for you:
Pros

Cons

Screen printing

– cost effective for large batches

– versatile design placement

– the more you order, the cheaper they are (volume discounts)

– not cost effective for multiple colors

– can only print simple shape designs

– large upfront investment

– one design per batch

Direct to Garment (DTG)

– extensive color options

– maximum detail in design

– suitable for small batches

– minimal upfront investment

– easily customized design

– not cost effective for extremely large batches

– no volume discounts

– limited design placement
How is screen printing done:
Screen printing is a process that involves pushing ink through a woven mesh stencil onto fabric. The stencil opening creates the space through with the ink will go, to create the design. The ink is then pushed over the mesh, pulled by a fill blade or squeegee. As the blade is pulled, the ink is pushed through the mesh, onto the garment.
Things you should know about screen printing: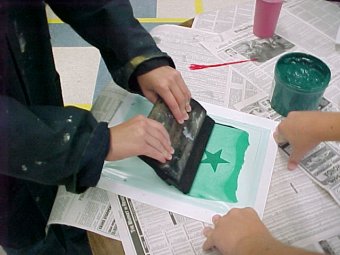 Because of the technique of screen printing, only one color can be applied at a time. Therefore, the number of colors on a t-shirt are limited, and each layer demands more time, another screen and stencil, and ultimately, more money. Screen printing is a good choice for simple designs, one solid color, and when you're making many t-shirts of the same design at a time.
How can you get yourself screen printed t-shirts?
There are many ways to get your hands on your own screen printed t-shirts. Here's a great tutorial on how to do it at home, or you can find a screen printer close to you. If you're interested in having a third party handle your fulfillment, you can get your screen printed t-shirts through Printful. Check out this page to learn more.
How is Direct to Garment (DTG) printing done?
Direct to Garment (DTG) is a method where a printer directly applies the ink onto the t-shirt with inkjet technology. It involves a special printer, which prints the ink directly onto the garment in the desired design. DTG uses specialty inks, which are absorbed by the fibers of the garment.
Things you should know about DTG printing:
Since the DTG printer is as precise as…well…a printer, you're able to print images in much higher detail than screen printing, and you're not limited in color. Because the printer can print any image, customization is simple. This is also a good option for those who don't have a lot of money to make an up-front investment for a large batch because each t-shirt can be ordered separately.
How can you get a DTG printed t-shirt?
What does Printful do?
Printful deals with the Direct-to-Garment style of t-shirt printing. We've made it easy for any to make a one-off t-shirt order. The benefit is that anyone can start up their mini-business, without any of the startup costs. You don't have to buy any large batches, you don't have to buy the printing technology, and you also don't have to worry about having piles of unsold t-shirts piling up in your living room.
If you're not sure which t-shirt printing method is right for you, get in touch with us. We'll give you an honest evaluation and suggest the best option for you.
Share this article
Related Posts