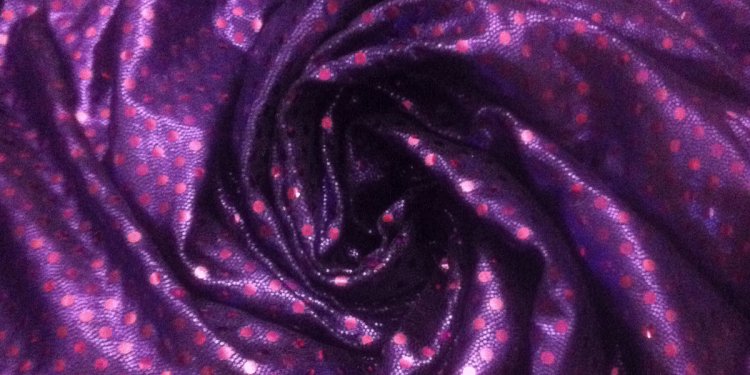 Power Mesh stretch fabric
This stretch fabric has the delicate appearance of tulle, with the strength of a performance fabric! Take a look at any of the trendiest knit garments in your local boutique, and you'll likely see power mesh prints and solids somewhere in the mix.
Pretreatment:
Machine wash and dry. Use cooler heat in the dryer, if possible.
Needles and Thread:
Even though this is technically a knit, you can use a universal needle for construction. Use a size 11/75 for seams. For hems, use a twin needle with a wide needle separation (3.0/90). All cotton, cotton covered polyester, or all polyester threads work well for this fabric.
Seams, Seam Finishes, and Hems:
This fabric will require a stabilizing element added to the seams, so that the open mesh will not pull away from the stitching. The best option is a thin satin ribbon stitched into the seam stitching. A straight stitch, medium length (2.5) will work for vertical seams, but do consider a zigzag for any horizontal stitching. Make the zigzag medium width (2.5) and slightly shortened in length (2.0). A three thread serged seam will work if ribbon is inserted into the serged stitch. Hems can be left raw, or you can use a twin needle for a finished hem. Another hem option is a bound hem; use a strip of crossgrain mesh and enclose the hem area in the mesh with a zigzag stitch.
Interfacing:
Because of the sheer nature of the fabric, and the open holes of texture, your best interfacing will be a third layer of the mesh itself.
Pattern Suggestions:
Tees, tanks, skirts (may require lining), shirts, scarves, or can be used as trim on other fabrics.
Creative Possibilities:
Use solid or print power mesh fabrics as a sleeve on a jersey tee shirt. Or cut a strip of mesh on the cross-grain and use it as a neckline treatment on a tee. One of my favorite contemporary designers created a terrific dress from a solid jersey, and used a mesh overlayâ€fabulous! Mix mesh patterns with lace, lightweight stretch velvets, even stretch lame, and create a one-of-a-kind tee or top. Or use several layers of mesh to make a gorgeous skirt that is lightweight and comfortable.
Additional Tips:
Keep every scrap of this fabric; you'll find many uses for the small pieces! A small piece can be used to reinforce areas in garments from other knit fabrics, much as you would use small pieces of interfacing. Try my favorite extra use for mesh: cut an arc-shaped piece on the fold of the fabric, and insert it into the sleeve cap of a jersey tee. The mesh gives the jersey just the right amount of support, and maintains the comfort of the garment!
Share this article
Related Posts