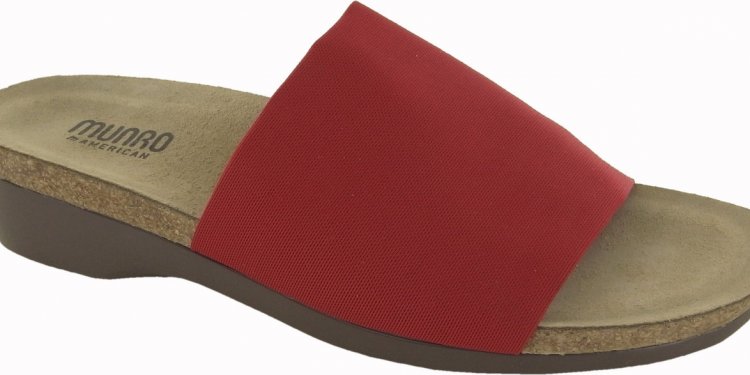 Yellow stretch fabric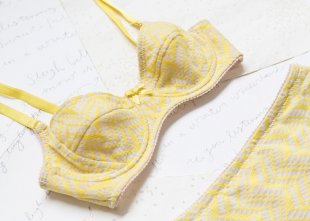 Say hello to Malborough, a ray of sunshine and the newest addition to my bra wardrobe.
The author of Demystifying Bra Fitting and Construction, Norma Loehr released this pattern last year. It took me until now to make my own and the reason was that I was perfecting the fit of Amber Rosalind. I'm a one project at a time type of sewer.
Available in approximately 40 sizes (30A-40DD), the pattern is geared towards smaller busts. I cut a 32A and with one alteration, which was related to design (adding ¼" to the top of the upper cup since I wasn't using a scalloped lace), it fits perfectly. Perf-ectl-y! The PDF contains 9 pages for directions and 2 pages for your bra pattern, which are printed onto one page. No taping – woot, woot! The pattern suggests a stable, non stretch fabric for the cups and the bridge, but from successes from previous bras, I used a yellow, stretch lace for all pieces and lined all pieces with a nude stretch mesh. The lace has 30% stretch in all directions, and underlined with the mesh, the fabrics together have about 25%.
All notions were dyed to match the fabric using RIT. I normally using Dharma Trading's acid dyes, but I ordered the wrong shade of yellow. Most all purpose dyes such as RIT contain two kinds of dye that are mixed together – a direct dye which does a fair job of dyeing cotton, and a 'leveling acid' dye which will dye both wool and nylon. It is best to use pure acid dyes on nylon – which this elastic is made of – because you avoid wasting the direct dye portion that cannot stick to nylon.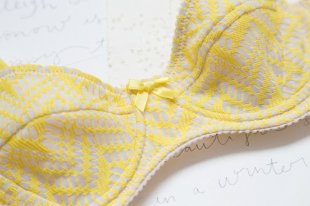 However, I didn't want to wait for another mail order, so RIT it was! The dye is a little uneven, but is my fault as I didn't agitate the notions consistently while dyeing.
For the most part, construction wasn't too tricky. I was unsure how the three cup pieces would come together, especially at the strap points. If you don't get the width exactly right, the strap elastic doesn't match the width of the strap point and causes it to look messy and home sewn. It wasn't the strap point that gave me trouble – that came together beautifully – it was sewing the upper and lower cups. The upper cup has a notch, but the lower cup doesn't, so if you're not careful, you can easily sew the lower cup upside down. Yep, I did the first time around!
Lately, I've wondered if there is a standard for zigzag stitch length and width when it comes to bra making. The only "rules" I had come across was that the zigzag width shouldn't be more than ½ the width of the elastic and widening the width or shortening the length increase stretch. Tasia and Novita's zigzags are much longer than what I use, but I didn't think they were wrong. I assumed it was their standard. Then, Amy shed light on this question. Here's what she wrote last week in a post discussing sewing lingerie elastic: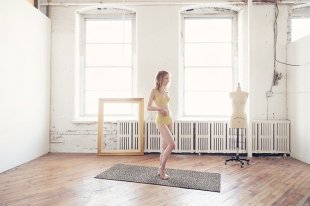 "Most modern machines come with a 3-step zig-zag, but if yours doesn't, don't worry. I've made many bras and underwear without it, and never had a popped stitch on them. The best place to use this stitch is on a firm, plush elastic. It is often used and the top and bottom of bra bands, and very occasionally on underwear.
You don't need to use it everywhere, and one reason has to do with preventing elastic fatigue. In manufacturing they do a lot of testing for the best elastic tension and stitch type for each elastic and how it interacts with the weight of the fabric. The more stitches and thread you put into an elastic, the more you impact its ability to rebound. A firmer plush elastic can handle the heavy stitching, but lightweight and very stretchy elastics will lose a lot of their rebound with a 3-step. This is the most frequent cause of wavy edges—when an elastic has stretched further than the actual length of the opening and is not able to rebound back to the original or smaller size.
In general, I recommend only using the triple zig-zag on elastics that are 3/8″ or wider, have a plush backing and are fairly firm."
So there's the answer – it depends. As a black and white person, I hate that kind of answer! There is no standard and what stitch is best to use depends on elastic width / quality and fabric it is being sewn on to. Just as with finding the right interfacing and tension, it's best to test a scrap piece of elastic beforehand. If you experience elastic fatigue, increase the length of the zigzag (so there will be less stitches). If the zigzag is more the ½ the width of the elastic, reduce the width.
This bra doesn't have sliders, meaning the straps are not adjustable. I've been trying to use what has accumulated into a large bra notions stash before making another purchase. So when the elastic stretches out and I need to shorten it, I will accordingly. Easy alteration!
Because of the three piece cup, there are many design variations for the Malborough. So, I'll definitely be sewing more! Also, I can't wait to teach the women attending my bra workshop how to make their own!
Share this article
Related Posts