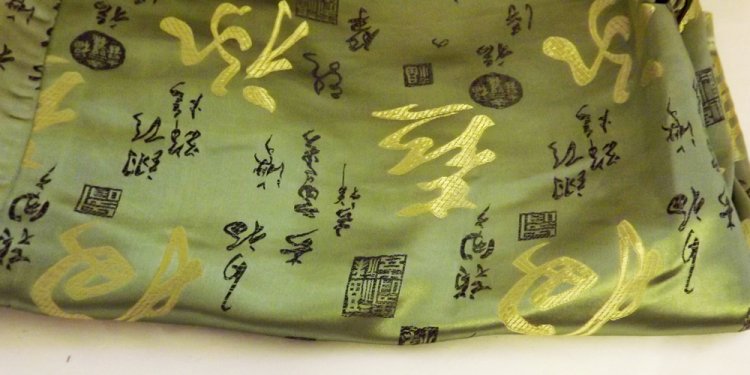 Chinese Brocades
Much has been sung in praise of the traditional Chinese yarn – the famous Chinese silk. For centuries now, China has gained the repute of producing one of the world's finest quality silk fabrics. And it is not any surprise since it was in China that silk was first discovered.
Chinese brocade, as it is known today, has takers from all across the globe. It is rich in color and texture with patterns usually from Chinese folklore. Among the various kinds of brocades found in China, the most sought after are the following:
Yun Brocade
Shu Brocade
Song Brocade
Zhuang Brocade
Ke Silk
Yun Brocade
Nanjing Yun brocade, with a history of 1580 years, was developed during the Yuan Dynasty. Yun brocade is well known for its extensive use of gold and silver threads. It is known as the "treasure of the Orient" and "rarity in China." This brocade was used as material for imperial robes and concubines' clothing. Yun brocade was presented as gifts to ministers, envoys and foreign monarchies.
Shu Brocade
Shu brocade, made in Sichun, had its origins in the Han Dynasty. It is an important cultural heritage and prestigious craftwork in China. As early as 1907, Shu brocade won the international prize in the South Pacific Exhibition, the gold prize in the 1908 Panama Exhibition, and was named "Oriental Beauty" in the Pan-Nations Exhibition in New York, America in 1937.
Shu brocade uses red as its predominant color. Soft and colorful, it is a splendid pearl in China's silk thesaurus.
Song Brocade
Song brocade was produced on a large scale and reached its artistic culmination during the Song Dynasty. The material is soft and supple with rich, vivid designs and bright colors. It is gorgeous but not glaring.
Zhuang Brocade
Zhuang brocade is the traditional handicraft of the Zhuang minority in Guangxi. Its history can be traced back to the Song Dynasty. Zhuang brocade is strong and durable. Cotton and flax are intertwined elaborately to form a thick cloth. Various colored threads are mixed together, showing a gradual change in color with a rich and harmonious tone. The patterns on Zhuang brocade vary from waves, clouds, grass and flowers to animals.
Ke Silk
Ke silk, or silk carving, is China's unique craft. Ke silk has made rapid progress since the Song Dynasty. The center of producing Ke silk was located in Suzhou during the Qing Dynasty. The technique involves the use of a warp upon which colored threads are woven to create a pictorial design or to copy calligraphy and painting.
Share this article
Related Posts