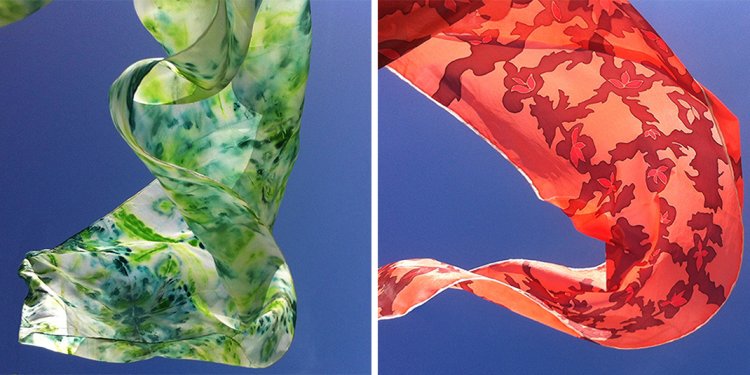 Beautiful Textile designs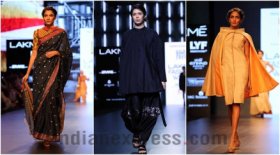 Day 2 at Lakmé India Fashion Week was dedicated to sustainable fashion and Indian textiles. The day opened with a 'Made in Assam' show titled 'Halodhi', where three top designers of the region enthralled the audience with their offerings. The show started with designer Aditi Holani Chandak label displaying Aagor by Ants Craft. Pranami Kalita for Pariah by Pranami made her debut at LFW W/F'16. She worked with indigenous silks that are renowned in Assam and blended them with fabrics from other parts of India. Anuradha Ped's line Naturally Anuradha had a pandora box of saris, dupattas and scarves with models appearing on the ramp in a riot of colours. Click through to see more pictures straight from Day 2 of LFW W/F 2016.
Hemang Aggarwal beautifully tames zari or mettalic yarn, known to be unmanageable by artisans across, and creates a mettalic, shimmery collection for Lakme Fashion Week Winter/Festive 2016. Express photo by Amit Chakravarty.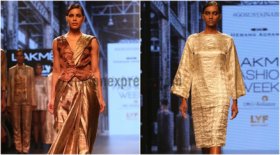 Without the use of printing or embroidery, the 'heavy metal' collection showcased a collection of simple yet elegant shifts, dresses and saris. Express photo by Amit Chakravarty.
Kallol Datta's 1955 collection was voluminous and fluid with black separates that were sharply cut. The show kickstarted with his trademark baggy silhouettes, followed by some velvet, then graphic polka dots and blacks flowed into dark inky blues. A futuristic feel was lent to the collection by the tops paired with crushed metallics. Express photo by Amit Chakravarty.
National Award-winning weaver, Anuradha Pegu is a National award winning weaver and showcased her latest collection for her label, Naturally Anuradha. The designer presented a vibrant and colourful mix of saris, scarves and dupattas intricately crafted out of finely weaved Endi, Nuni and Muga silks. In addition, there were designs made of spun and pure cotton with rich weaves of gold and multicolours that highlighted the borders of the traditional drape. Express photo by Amit Chakravarty.
Padmaja's collection was called the 'Loom of my Mind' which showcased the magic of handloom that revealed the Maheshwar weavers' expertise with specially woven fabrics that were highlighted with intricate details and accuracy.Fluid shapes in the collection lent a touch of languor to the collection. Padmaja's signature style that is earthiness was highlighted by the scarves. Express photo by Amit Chakravarty.
Making a beautiful debut at the Lakme Fashion Week 2016, Designer Pranami Kalita made a beautiful debut at the Lakme Fashion Week 2016 with Pariah by Pranami, and gave traditional the Indian handloom a contemporary twist. The designer brought native Assamese silks like Paat, Eri and Muga to the fore with her collections abd opened the show with Indian wear, following which models took to the ramp in beautiful capes, one-shoulder gowns, off-the-shoulder dresses among others. What shone through her collection was the use of weaved-in traditional Assamese motifs and silk to create a highly contemporary look that included crop tops, culottes, gowns and more.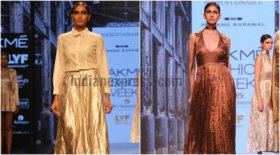 Express photo by Amit Chakravarty.
Aditi Holani Chandak presented Aagor — a collection that was both easy and relaxed. As flautist Prabin Nath set the mood of the show, beautifully sari-clad models walked down the ramp draped in elegant black and red Mekhela Chadors which is the traditional Assamese dress. Aagor by Ants Craft is a label that helps empower the women of the Bodo tribe by providing them creative support. The collection also included easy-breezy shirt dresses, striped skirts and blouses, tie-up tunics, jumpsuits as well as maxis. Fringes and tassles were seen on most of their garments. Sara Jane Dias concluded the show in a pretty black and ochre slashed skirt and a plain black shirt. Express photo by Amit Chakravarty.
Textile designer Bina Rao's new collection showcased for Lakme Fashion Week Winter/Festive 2016 was resplendent with warm hues of brown, red and ochre. The women's collection includes flared, long skirts in raw silk with a highlight of hand-painted Kalamkari in Chintz style in deep red and rust; overlap short blouse with embroidery and patchwork with Kalamkari motifs; dupattas woven in silk and painted with Kalamkari among other mesmerizing designs. Express photo by Amit Chakravarty.
She calls her ensembles semi formal and with minimal embellishments and pays tribute to Indian crafts like block printing and hand painting. Rao's men's collection include styles in classic brown and black in textured silks with block prints in natural dye. The collection, titled Nuovo-eco-classic, used Creative Bee's signature weaves and textures.Express photo by Amit Chakravarty.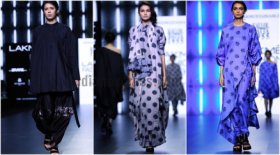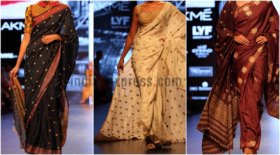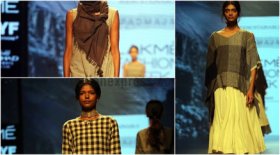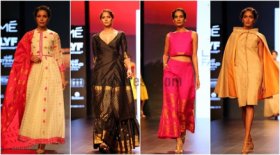 Share this article
Related Posts