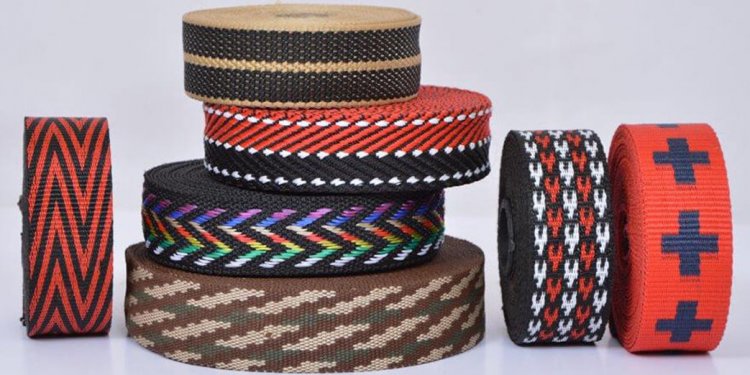 Narrow woven fabrics
Cotton Webbing is a multi-purpose material that is softer and easier to sew than other webbing fabrications. It also offers unique advantages because of its soft hand, texture, rich matte finish, water absorption abilities and its elimination of static electricity. Webbings made from cotton are ideally used for handbags, belts and straps. They are functional for buckle attachments as straps on leather or canvas bags.
We specialize in this webbing option by making them available in a wide range of colors and finishes. The best part is that it can be custom-designed to match the specific requirements of the customer. Using the best available packaged dyed cotton yarn for making our webbings, we conduct testings in house & in accredited laboratories for CSP, color fastness, washing fastness at 60 degrees C (4~5), light fastness in Xenon arc light (4), dry rub fastness (4 for light shades & 3~4 for medium to dark shades), wet rub fastness (4~5 for light shades & 3 for medium to dark shades) & perspiration fastness (4~5). For ensuring the right color delivery to our customer, we make available lab dips for necessary approvals.
This again is an extremely versatile fibre having excellent resistance to sunlight & abrasion apart from having very low moisture regain percentage. Further, this fibre may be dyed to many shades with best color fastness properties. Hence owing to great finish and put up, we manufacture this webbing in many colors for intended use in handbags, belts & straps. The testings are done in house and also from outside agencies to ensure desired fastness ratings and good color matching for the purported usage.
Jute webbing is a narrow woven tape made of jute, using single or plied jute yarn, having width of not more than 75mm. We make this web of natural fibres which easily weaves into customers finished product and lends its earthly qualities. Our jute webs are essentially light owing to production limitations. However, we very often combine with other fibres in order to impart rich texture and add brilliance to the final product. The product finds extensive use in footwear, bags & belts.
Exploiting the brilliance of the best fibre available for apparel, we have gone one step ahead to offer the denim option in our webbings. Going from low washed option to heavy washed look, the customer may experiment to get the best out of the webbing to perfectly compliment the handbag, belt or footwear wherein it has to be sewn or used. With an array of exciting color options to choose from (viz. washed black, washed mustard, washed brown, washed ivory or washed denim blue) the possibilities are endless.
Elastic is manufactured by combining strands of natural or synthetic rubber with strands of yarn. Woven elastic fabrics are dense with interlocking threads for a strong, premium product. We only use Heat Resistant Latex Rubber Thread with super heat resistance, high elongation, high tenacity and extremely high green modulus of elasticity. Our elastic webbing will hence not become narrow when stretched. Polyester woven elastics are useful in a variety of applications where the appearance and quality of a woven is desirable. We do this exciting option mainly for belts and footwear.
Share this article
Related Posts