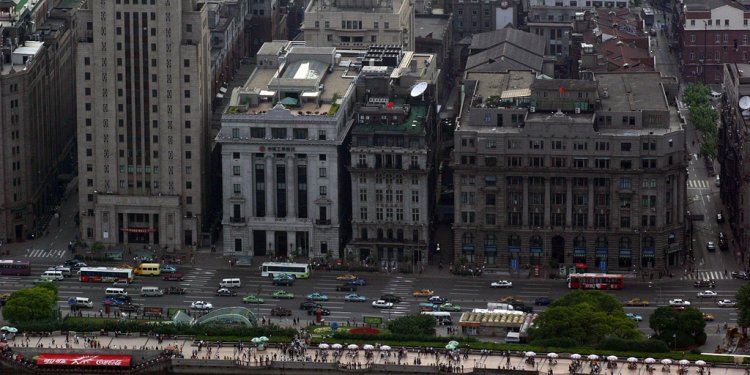 China textile exports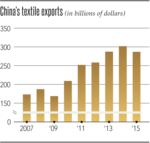 China's textile exports fell 5% to $286.8 billion in 2015. Textile exports had been growing for years, except in 2009, in the wake of the global financial crisis. In the first two months of this year, the country's textile exports dropped 16% on the year.
The decline is partly due to a slowdown in Europe and Southeast Asia's sluggish growth. Textile exports to Europe, the country's largest export destination, were down 9% in 2015.
The yuan's year-on-year appreciation was a negative factor as well.
However, it is widely believed that China's soaring labor costs played the major role in deflating export numbers, not temporary external factors. Wages in China have doubled over the past five years. Monthly manufacturing wages in Shanghai were about $470 in fiscal 2014, about three times higher than those in Hanoi, Vietnam's capital.
"China's textile production, mainly the labor-intensive garment industry, is beginning to shrink, " an executive of a major textile maker said.
Many textile makers are shifting upstream processes to other countries before the Trans-Pacific Partnership is ratified by its member nations. China is not among those countries. Toray, for example, has shifted its spun yarn production to Vietnam, which is a member. TPP countries will not be able to benefit from eliminated tariffs if they source material imported from nonmember countries.
This is one reason China's textile industry is in flux. "Chinese companies are beginning to aggressively invest in other countries, " said Hiroya Kagiyama, manager of the Japan Chemical Fibers Association. One of those countries is Vietnam. In 2015, China's imports of textile products from Vietnam jumped 18% to $2.5 billion.
A major Japanese apparel maker has built a plant in Myanmar to reduce imports from China. "With productive workers, we have become able to set prices strategically, " a company representative said.
Still, Chinese workers have sophisticated textile processing and sewing skills, and the markets for sportswear and functional fibers are expanding. So although the production of low-priced goods is shifting away from China, the country is expected to win more contracts to make high value-added products.
Share this article
Related Posts