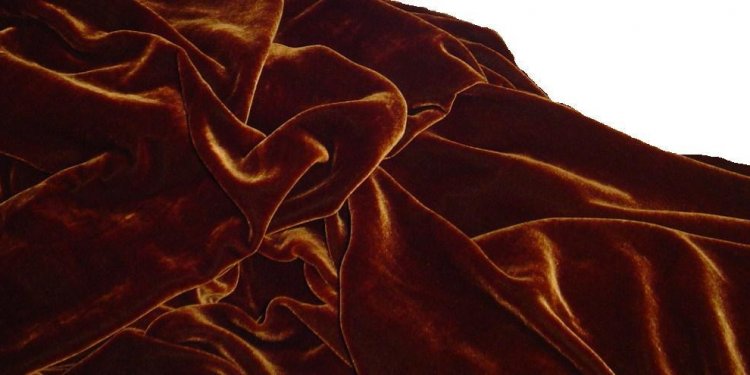 Rayon-Silk Velvet Fabric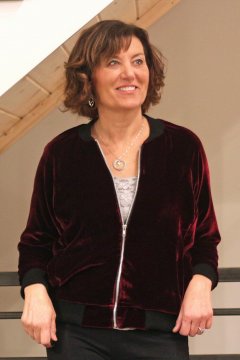 I love the look of a bomber jacket and started thinking about fabric and something for the holidays. My thoughts lead to the hot fabric right now, velvet and I headed right over to Pinterest for ideas. I was on track as I saw several velvet bomber jackets and I knew I had my Christmas look. My fabric is Mood Fabrics Sultan Red Soft Rayon-Silk Velvet, which is available in 7 more colors.
The pattern I went with was McCall's 7100, which is an easy to sew pattern but the velvet did provide the challenges. First think I did before doing any cutting or sewing was to read all about sewing with velvet and McCall's blog has an excellent article. For pressing as recommended I used a terry beach towel and used several scrap pieces to test the heat, steam or no steam, etc.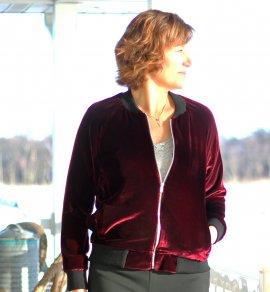 One thing my test proved was no steam. I placed the towel on my ironing board and used another towel as my press cloth. I am a steam girl, so the first sample, I really put the steam to it. Well, I quickly found out no steam, it changed the texture and the appearance of the velvet. Thank goodness for the test and extra fabric. Remember I said I was a steam girl, well out of habit, I pushed the steam on the front side seam of my jacket. OH, NO! I quickly pulled out my extra and I had just enough to cut more pieces and start again.
I took some photos in the evening before our company Christmas party and then went outside the next morning for some outside shots. This velvet is hard to photograph and it is not warm when the outside temperature is -2 degrees! I worked quickly and got some photos which really show off the fabric and the pattern. I will probably always wear the jacket zipped up as I like how it looks this way.
But I don't mind it unzipped either
For the interfacing on this jacket I used muslin. The velvet has lots of drape, which I like for the jacket itself. I did know the facing, front bottom band and the zipper area would benefit from the stability of muslin. The muslin didn't change the hand of the fabric, just added some body. I did baste a small strip to the wrong side of the front edge for the zipper. My zipper still had some wave in it, something a good shot of steam would help in most cases. The velvet just couldn't handle the steam and I didn't want to change the appearance of my fabric.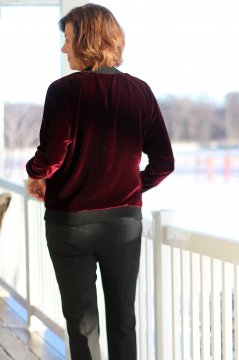 For the cuffs, waistband and neck, I used Mood Fabrics' Acrylic/Spandex Rib knit trim (sold out but more choices available), My rib knit really has the appearance of a sweater knit but has great recovery. I loved the look of this with the velvet
McCall's blog has a sew-a-long for this pattern and excellent instructions for adding a lining. I went with Mood Fabrics"China Silk in Maroon. I am so happy I lined the jacket, as it really just finished it off and made it look so good inside and out
And adding a label, of course!
The bottom band and lining
My advice about sewing velvet, take your time, test the seams and the pressing and you will get great results.
I love my new bomber jacket and feel very stylish and current in the velvet. I have plans for a nice basic shirt in another color of this silk-rayon, maybe the rust? Which color is your favorite? Hurry and get it, the velvet is going fast.
Disclosure - I receive a monthly fabric allowance from Mood Fabrics to make a garment. These garment are blogged at Mood Sewing Network first and then I will blog here about this garment.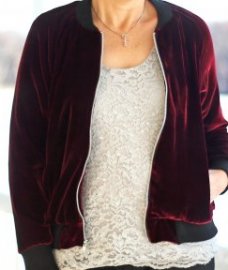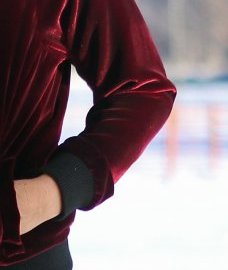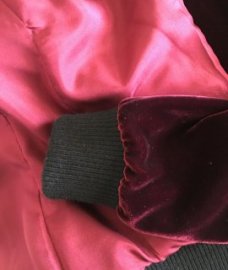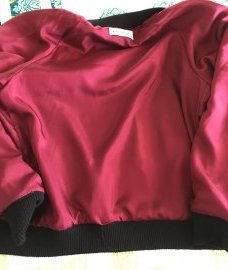 Share this article
Related Posts