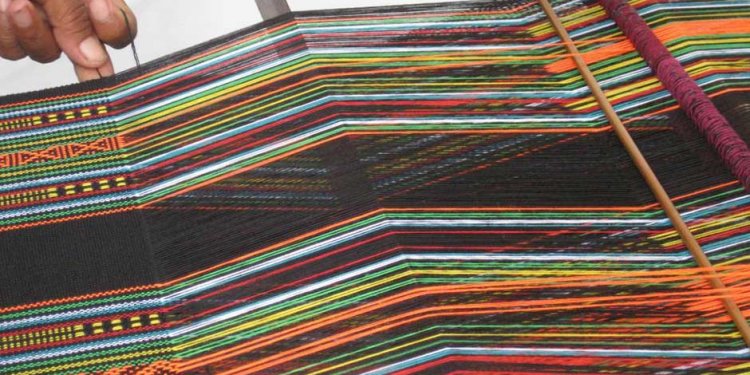 Brocade Weaving
The art of backstrap weaving is practiced by many artisans in the highlands of Guatemala and has been indigenous to this region for generations. Six of our cooperatives employ this technique to create elaborate textiles. According to Maya myth, backstrap weaving originated with Ixchel, the Maya Goddess taking numerous forms – Moon, Water, Weaving, and Childbirth. She is the deity of fertility and procreation, and represents female empowerment. Ixchel taught the first woman to weave, and since then the practice has been passed on from mother to daughter, generation after generation. At birth, baby girls are presented with the necessary tools for weaving. At the age of eight or nine, Maya girls are taught to weave for the first time, by their mothers, older sisters, and older women.
Backstrap weaving is conducted using a simple apparatus that consists of parallel sticks holding in place vertical base threads that are held taut and are cross-woven with horizontal threads running parallel to the sticks. One end of the loom is attached to a post or tree via a rope, and the other is attached to the weaver's body through a strap that wraps around the back, giving the technique its name "backstrap weaving." A shuttle is used to pass thread through the layers.
Maya Traditions artisans practice two types of weaving: simple backstrap weaving and brocade. The colors and design in simple backstrap weaving are created through the thread attached to the loom. It often features a variety of colors–or mixing different color threads for effect. Brocade weaving allows artisans to create elaborate embroidery-like designs into the weavings. Backstrap weaving is an ideal technique for busy indigenous artisans. The equipment needed is light and extremely portable and the apparatus can be set up almost anywhere. This is essential because most artisans are balancing many duties including raising children, maintaining the home, and earning a living through weaving.
While Maya textiles are used for daily clothing and provide protection against nature, they are also incorporated into ancient ceremonies and rituals. Women's "traje" or traditional clothes consists of a "huipil" – a blouse made from a square or rectangular piece of woven fabric with a hole in the middle for the head and folded and stitched up the sides with arm holes. This is worn with "corte, " a skirt that is tied at the waist with a woven belt. Textiles vary by community, and designs and colors are often indicative of a specific village. Women's clothing identifies the woman as an individual within her culture, as well as communicating traditional Maya beliefs about the universe.
Share this article
Related Posts