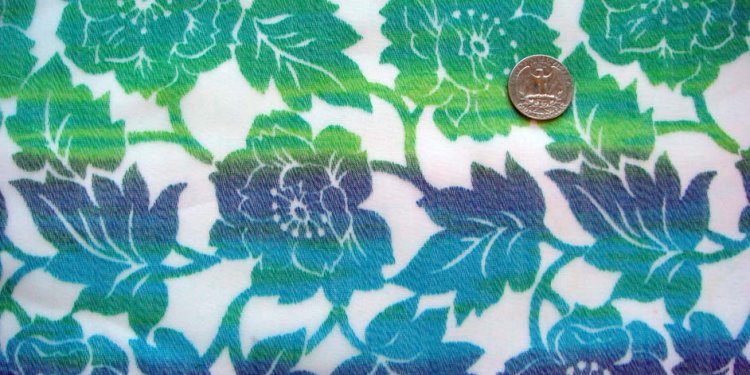 Chiffon Crepe Fabric
Silk Organza is a sheer, thin open-weave fabric that is heavier and crisper than silk gauze. It has a smooth, flat finish, is strong and durable, and gets its stiffness from tightly twisted yarns. Often used as the base fabric for embellished fabrics.
This plain weave sheer silk is made with a loose plain weave and tightly twisted yarns that have 10 to 20 turns per inch. Organza is similar to cotton organdy except it is made with silk and is transparent. Organza has a crisp drape, which requires special sewing techniques for seams, facings, and hems because they can be seen from the outside of the garment. It is mostly used for interfacing, veils, and undergowns.
Chiffon Silk
Chiffon literally means "rag" in French. This elegant, sheer fabric is quite limp, with a beautiful drape. It has a soft, supple, thin hand and a flat, crepe-like texture.It made from silk, cotton, nylon, polyester, or rayon.It is basically refers to a light plain woven sheer fabric. It is delicate in appearance, it is a relatively strong, balanced fabric and can be dyed or printed for use in dresses, millinery, scarves, and lampshades. This fabric can be difficult to work with because of its light and slippery textures. Due to this delicate nature, chiffon must be hand washed very gently.It adds a magical look to the dress and wearer's personality.
A very light, diaphanous fabric, Chiffon is made with a loose, plain weave and tightly twisted single crêpe yarns in both warp and weft. Unlike in crêpe de Chine, the weft yarn is either S or Z twist. The characteristic wrinkles in the finished fabric are created by the weft yarns being pulled in one direction.
Chiffon is elegant and sheer, with a slightly rough feel to it. Sometimes called Crepe Chiffon, this fabric is highly suited for special occasion dresses, Scarves, nightgowns, and linings. Chiffon is softer and thinner than Georgette. [Georgette is made like chiffon, but with a two or three ply yarn.] Because of its slippery quality, chiffon is difficult to cut and sew.
This fabric is a good choice for manufacturing blouses, dupattas and various types of ladies dresses. It is also used for making bridal gowns, scarves and evening and formal wears
Crepe Fabric
A fabric characterized by a crinkled, puckered or pebbly surface with highly twisted yarns in the weft and sometimes in the warp or both. Crepe is usually made with a plain weave. The crinkly texture of this soft and pliable fabric can be smooth or quite rough. The fabric is woven from all of the major fibers, natural or man-made. Surface textures range from fine, flat crepes to pebbled and mossy effects; some surfaces resemble tree bark.
Crepe Silk
Silk Crepe is a luxurious fabric with a good sheen and a pebbly texture obtained by using high twist yarns. Silk Crepe has a beautiful drape, and is extensively used to make dresses, slacks, skirts, lightweight suits, bridal gowns, and evening wear.
Crepe de Chine
Crepe de Chine ('krape dee sheen'), French for "Crepe from China, " is similar to Silk Crepe, but lighter weight and less textured fabric made with S and Z highly twisted filament yarns alternating in the weft and with a normally twisted filament warp. The matte surface and pebbled texture of this graceful fabric reflect individual pinpoints of light, giving it wonderful chromatic depth and striking eye-appeal. This luxurious silk has the additional virtues of great durability and excellent wrinkle resistance. Lightweight with a pleasing drape, designers choose it among silk fabrics for elegant slacks, skirts, dresses, suits, and eveningwear.
Crepe/Geogette Yarn
Twisted yarn usually with 2000 to 3600 tpm (twists per meter), generally made of two threads of raw silk.
Crepe Yarn
Highly twisted yarn generally with 1200 to 4000 tpm (twists per meter) used for producing crepe effect in woven or knit fabrics.
Georgette Silk
Fine, lightweight, plain weave, crêpe fabric, usually having two highly twisted S and two highly twisted Z yarns alternately in both warp and weft. Made of crepe yarn, silk georgette has a grainy texture, a sheer feel, and a thin, very dry hand. It is heavier than chiffon, and is similar to silk crepe, but is not as soft or lustrous as crepe. Georgette is durable, but snags easily. Drapes very fluidly, and falls into soft ripples.
With its creped surface, this sheer and strong silk fabric is great for blouses, bias-cut flared skirts, evening wear, dresses, and scarves. Doesn't show pin marks, and doesn't hold a crease. Relatively difficult to sew.
Kashmere Silk
Silk fabric made with 2/1 right hand twill weave that gives a soft finish.
Momme Weight
Silk momme is equal to about 3.62 grams per squar e yard or 4.33 grams per square meter (designated as mm)
Chiffon- 6 to 8 mm
Crepe de Chine-12 to 18 mm
Georgette-8 to 12 mm
Organza-4 to 6 mm
Organza Silk
Share this article
Related Posts