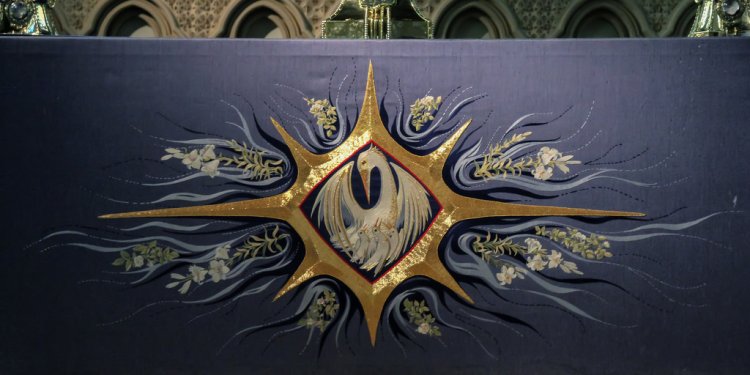 Abstract Textile design
John Piper: The Fabric of Modernism is the first major exhibition to focus on the artist's role as the designer of printed fabrics and tapestries in the post-war period. It brings together many of the fabrics that he designed for the 1950s and '60s home together with studies and related paintings, collages and prints. It demonstrates Piper's extraordinary versatility as an artist, and his openness to working with skilled craftsmen, printers and workshops to realise his ideas.
John Piper and abstract art
One of Piper's first fabrics was 'Abstract' (1955), which was printed by David Whitehead Ltd, a company based in Lancashire. What is so interesting is that this strikingly modern design was actually based on a painting that Piper had created in the mid-1930s called 'Abstract Painting 1935', when he was working in an exclusively abstract style that predated his much more familiar images of churches and country houses.
The original painting, which we show alongside the textile in the exhibition, was owned by Hans and Elsbeth Juda, who were the editors of The Ambassador – a magazine that served to promote British design and exports abroad. It is easy to see why Piper selected this painting as the basis for a repeat pattern. Its modern composition revealed the international influences on his work, particularly the impact of his trips to Paris in the mid-1930s where he had seen the abstract work of Pablo Picasso, Alexander Calder and Jean Hélion. The vertical bands of dark and light forms, with intersecting triangular and circular shapes, made it particularly appropriate for a hanging fabric that would be used for curtains. Piper really understood that pattern design was not just about creating a flat repeat, but something that would flow and have rhythm when hanging in folds.
John Piper and David Whitehead
'Abstract' was one of a number of fabrics that he designed for David Whitehead in the 1950s and '60s, which are each very distinctive from each other and were reinterpretations of historical subjects in a modernist idiom. The fabrics included a design based on a church monument by Grinling Gibbons, another on the gates at Blenheim Palace, whilst others featured foliate heads based on 'green men' in medieval carvings, and coastal landscapes in Brittany. He later produced a whole range for Arthur Sanderson and Sons' centenary in 1960 including one based on a church by the Grand Canal in Venice, and others based on stained glass windows and his paintings of the Welsh mountains.
Share this article
Related Posts