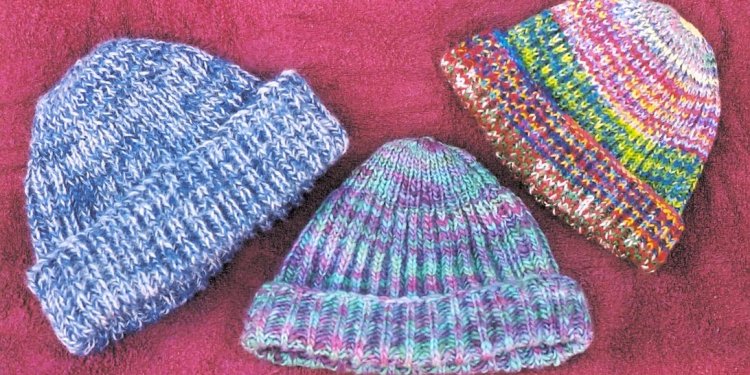 Fabric Knits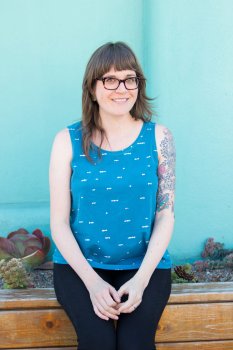 If I were to earn a badge at summer camp, it would be for sewing with knits. I have an uncontrollable T-shirt addiction, so when I first learned to sew, I jumped straight to the serger.
Even if a pattern calls for woven fabrics, I'll probably find a way to sew it in a knit, which is what I did for Sorbetto. I went down one size, got rid of the bust darts, and traded the pretty center pleat and bias tape for some cozy knit fabric and a neckband. In less than an hour, I had a brand new tank!
When the bust darts are removed, Sorbetto has this really great swingy shape, perfect for lightweight fabrics like bamboo or rayon jersey. Since Sorbetto is designed for woven fabrics, you can use a thicker knit, such as ponte, if you want to maintain the original shape—I split the difference and chose a medium weight knit with a ton of stretch.
You'll Need…
A ruler or hip curve ruler
Pattern paper
A sharp pencil
Tape
A ballpoint needle
Twin needle (optional)
How to eliminate the front pleat
1) Using paper shears, cut along the line marked "pleat" on pattern piece A. This line is your new center front.
How to eliminate the dart
1) Mark a new bust apex 1.5″ out from the dart apex. Draw two lines, starting at the dart notch and ending at the apex. Call these lines A and B.
2) Draw a third line from the bust apex to the hem that is parallel to the center front. Call this line C. Cut along lines A and B all the way to the bust apex, removing the dart.
3) Cut along line C, starting at the hem but stopping just short of the apex. Now you have a hinge! Yay!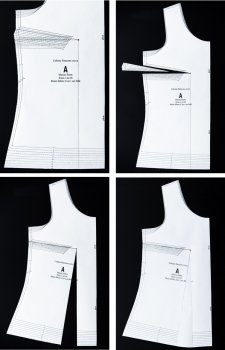 4) Pivot the lower side portion of the pattern until the dart is closed.
5) Use pattern paper to fill in the gap created by pivoting the dart and redraw the hemline.
Don't forget to narrow the seam allowance
To make this pattern serger friendly, reduce the seam allowance of the shoulders and side seams by 1/4″ so that the seam allowance is 3/8″.
How to finish the neckline and armholes
Since you can't use bias tape on a knit version, there are a few other options for finishing the neckline and armholes. To learn 4 complete methods, check out our ultimate guide to binding knit edges.
I'm a big fan of neckbands when sewing knits, so I used a neckband for my Sorbetto, finished with a twin needle. For the armholes, I used the clean finish binding method, also finished with a twin needle.
If you're like me, and crave a knit version of all your favorite woven patterns, check out Christine Haynes' article, "From Woven to Knit" to determine if your pattern is a fabric chameleon like Sorbetto.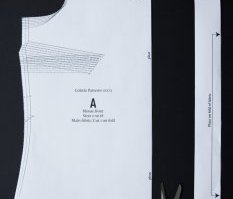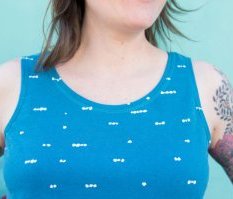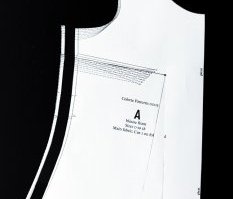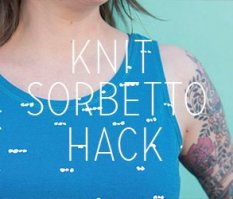 Share this article
Related Posts