Knit Polyester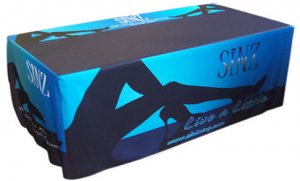 Flame Retardant Knit Polyester Details
( FR ) Fire retardant knit polyester is our most popular fabric due to its durability, easy maintenance, flame retardant yarn, and excellent printability. Additionally, FR knit polyester is good for the environment because it comes from post industrial and consumer recycled plastic, and it's designed for long-term wear. Once retired from the trade show circuit, it can be reused, one example being costumes for school plays.
Fire Retardant
The "FR" in FR knit polyester stands for Flame Retardant. Our material is not cheap imported fabric that is dipped or coated with chemicals to add flame retardant quality. Instead, our fabric table covers are produced in the U.S., use a flame retardant yarn for improved quality material and are certified.
Easy Maintenance
For custom table throws, flame retardant knit polyester is better than woven or poplin fabric because it doesn't require ironing or pressing after washing. Woven fabric table covers are similar in structure to a men's dress shirt, which may require pressing to remove wrinkles.
FR Knit polyester fabric table covers, on the other hand, are similar to short-sleeved polo shirts, T-shirts or jersey skirts, which are naturally more wrinkle resistance and can be normally be washed and dried without ironing.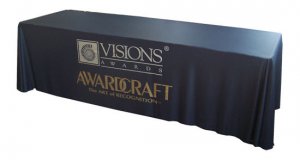 By choosing flame retardant polyester knit, your fabric table cover will come out of storage with few wrinkles, require little or no steaming and ironing, and provide long-term value.
Printability
FR Knit polyester is also a great canvas for printing 1, 2 or full color designs and logos. The texture holds intense and vibrant colors beautifully.
Flame Retardant Knit Polyester Styles
Knit polyester without the flame retardant yarn has many great qualities. Knit polyester fabric is lightweight, so it travels easy and is great for people on the move. Additionally it is wrinkle resistant, washable, and breathable while still maintaining it's durable nature. For the value conscious, knit polyester is the perfect fabric if you know you will not need the certified fire retardant yarn found with our FR knit polyester. But we caution, there are different flame retardant rules and regulations that require draperies used in public spaces to meet NFPA 701 standards. So it is important to understand where these table covers will be used, and then take steps to make sure your meet venue requirements while also reducing any risk of potential fire. For these reasons, most people simply choose our FR knit polyester to avoid any unforeseen challenges.
Share this article
Related Posts