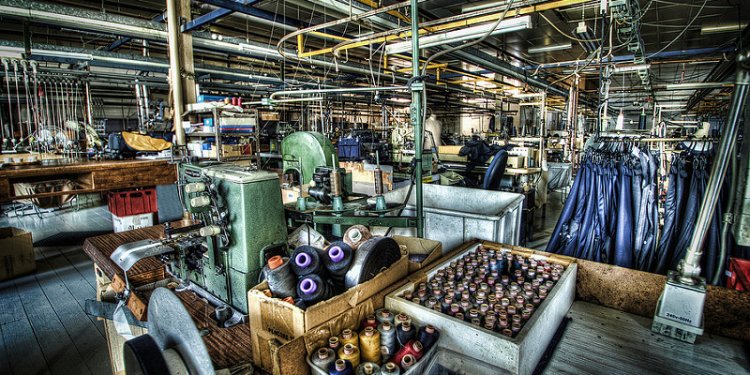 Clothing manufacturing

Domestic vs. Overseas Clothing Manufacturers
A classic question when looking for suppliers if you plan to manufacture or wholesale is whether you want to source domestically or from overseas. Overseas can refer to any location overseas but since the readership of this site is mostly North American, when we refer to overseas suppliers, we are referring to clothing manufacturers in countries like India, China, and Taiwan.
You likely already know that it's almost always cheaper to source your products overseas but there's a lot more to that decision than just the upfront investment and cost per unit.
Both domestic and overseas sourcing have their advantages as well as disadvantages which I've previously discussed in a blog post on the Shopify blog titled How To Find a Manufacturer or Supplier for Your Product Idea.
Let's take a look at some of the advantages and disadvantages below:
Domestic (USA) Clothing Manufacturing Companies:
Advantages
Typically higher manufacturing quality
Typically higher labor standards
Easy and efficient communication
Similar time zones and holiday schedule
Marketability and brandability of North American made goods
Faster shipping time and cheaper shipping costs
No import duties or tariffs
Intellectual property right protection
Higher payment security
Disadvantages
Higher manufacturing costs
Typically smaller choice of potential factories
Smaller product choice (Many items are only made overseas these days)
Overseas Manufacturing Companies:
Lower manufacturing costs
Greater number of manufacturers/factories to choose from
Well established directories like Alibaba have made it easy to find potential suppliers
Lower perceived quality from customers
(Usually) lower manufacturing and labor standards
Import clearance and customs brokers to deal with
Language and communication barrier
Significant timezone difference
Cultural differences in negotiating and schedules
More costly to visit and verify manufacturer
Longer shipping times
Import tariffs
Higher shipping costs
Lower payment security
Where to Look for Clothing Manufacturers
Now that you have a better idea of the pros and cons to finding manufacturing partners domestically and abroad, you can begin your search. There's a few great places to start that can put you on the right track to finding your perfect apparel manufacturing partner.
Let's take a look at some of the most popular:
Directories/B2B Marketplaces
Directories can be your best bet for casting a wide net. Some of the larger directories can contain hundreds or thousands of potential manufacturers/factories for your next project.
While there are a lot of manufacture directories online, many of them are low-quality or outdated. However, there are several legitimate directories that are have done a great job of consolidating manufacture profiles.
Worldwide Clothing Directories
Bonus: Purchase The Ecommerce Startup Bundle and receive 50% off a Maker's Row subscription for the first 4 months along with nearly $1, 000 in other savings to build, launch, and grow your ecommerce business.
Google
As you probably can imagine, searching Google is your best bet for finding clothing manufacturing companies if you're willing to dig deep and work hard to find them.
Share this article
Related Posts