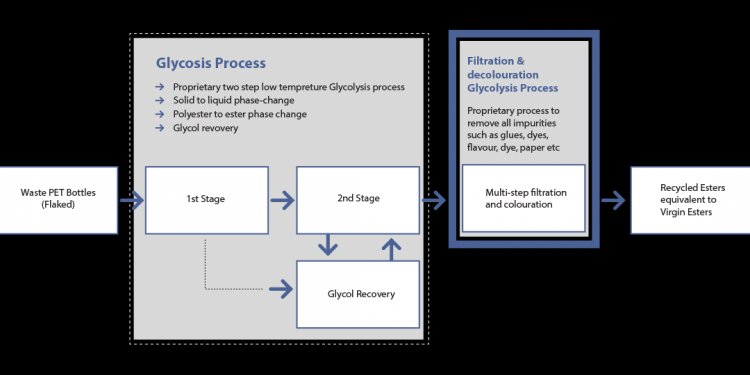 Polyester Process
Most polyesters are made from petroleum from which the constituent acids and alcohols are derived. The types of processes that manufacturers use vary, and little is known about specific manufacturing processes, because the companies want to keep them a secret in order to remain competitive. Here is a general description of how polyester is synthesized:
1) Polymerization
Condensation polymerization occurs when the acid and alcohol are reacted in a vacuum at high temperatures. The polymerized material is extruded in the form of a ribbon onto a casting trough or cooling wheel. After the ribbon hardens, it is cut into chips.
2)Spinning
The chips are dried and then put into hopper resevoirs for melting. Polyester is a "melt spun" fiber, which means that it is heated, extruded through the spinnerets, and cools upon hitting the air. From there it is loosely wound around cylinders.
3)Drawing
The fibers are then hot stretched until they are about five times their original length in order to decrease their width. The fiber is then wound onto cones as filaments or is crimped and then is cut into staple lengths.
Variations on the Basic Polyester
Different fibers can be created by doing one or more of the following:
1) Adding a delusterant-Polyester is a naturally bright fiber, but can be made dull or semi-dull by the addition of a delusterant.

2) Changing the shape of the spinneret-The simplest and most common shape is a circle, but by changing ths shape of the spinneret, square, oval, and bean-shaped fibers can be formed. One can even create a hollow fiber. The different shapes affect the hand and strength of the fiber.

3) Drawing it out more-Drawing out the fiber to five times its orginal length is normal, but polyester can be stretched even further to create the now-popular microfiber. Drawing it out may also affect the strength, elasticity, and dyeability.

4) Adding dye-In its natural state, polyester is a slightly transparent off-white. Adding dye at the manufacturing stage can create brilliant colors like electric blue and atomic red.

5) Crimping-When the fiber is drawn out it is long and smooth. Crimping can give the fiber more texture and bulk and can increase its insulation properties, as well as its elasticity.
Making Yarns
After the fiber itself is created, it is made into a yarn. There are two types of polyester yarns: filament and spun. Filament yarns are made by taking the long polyester filaments, grouping them together, and then twisting them to make them thicker and stronger. A monofilament yarn has just one, long polyester fiber that is not twisted.
Spun yarns are produced in much the same way that a cotton or wool yarn is produced. The long filaments are fist cut into short pieces called staples (see photograph.) These are then combined together and spun to create a yarn made up of thousands of short filaments.
Blends
At this stage, polyester can also be combined with other fibers to produce a variety of effects.
Polyester and cotton is probaby the most famous and popular blend. The polyester helps the fabric retain its shape and resist stains and wrinkles. The cotton makes the fabric more absorbent and comfortable.
Share this article
Related Posts