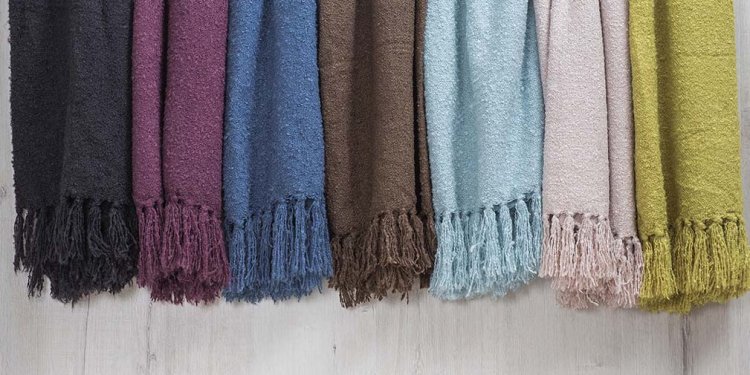 Boucle Material
The classic boucle (boo-clay) jacket was popularized by the iconic French fashion designer Coco Chanel decades ago, and the look is still on-trend today. Though the term has become synonymous with the elegance of a classic wool jacket, "boucle" actually refers to material made with boucle yarn and not a specific type of garment as some people think. Boucle yarn contains loops that range in size from large, loose curls to tight circlets. In fact, the word boucle is French and means "to curl." The larger the loops, the more texture the finished material will contain. Like other woven textiles, several colors can be used to create an endless variety of designs and patterns.
Material woven from boucle yarn is used to make sweaters, jackets, accessories and wardrobe items in many styles. Today, boucle clothing is available in modern easy-care acrylics and blends as well as wool. Making boucle sweaters and jackets from lightweight materials such as acrylic gives them more versatility?boucle is no longer limited to the fall and winter wardrobe.
Wearing Boucle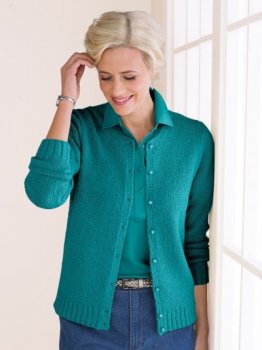 Boucle clothing is dressy, casual and everything in between. Some looks, like the Studio Style Tweed Jacket are perfect for the professional woman who wants to looks and feel successful. The soft texture of boucle yarn adds a feminine touch to career wear without the need for ruffles or bows. Selecting tailored pieces like the Studio Style jacket allow for a conservative, modest look that is still approachable and modern.
Unstructured boucle jackets like the Boucle Boyfriend Jacket are smart investments because of their versatility. An unstructured jacket can be dressed up for the office or dinner at a 5-star restaurant, or pair it with jeans and flats for a trip to the farmer's market.
Cardigans are every woman's go-to garment when they need a light layer of warmth or that extra something to make an outfit special. Boucle cardigans also provide textural interest for those times when a patterned sweater or jacket is too much. Leon Levin's Classic Boucle Cardigan is a polished look that can be worn open or buttoned for extra warmth. Everything from a silk blouse to a discount-store T-shirt will look better worn with a boucle cardigan.
Caring for Boucle
Because of the variety of materials used to produce boucle yarn, no single recommendation for laundering is realistic. Wool and wool-blend garments may require hand washing or dry cleaning. You can extend the time between dry cleanings by gently brushing wool boucle jackets with a soft-bristled garment brush after each use, being careful not to snag any of the loops. Always hang wool jackets on sturdy wooden hangers to help them keep their shape. If you prefer clothing that's easy to care for, look for boucle garments made from machine washable acrylics like the Blocks Boucle Cardigan Sweater.
Share this article
Related Posts