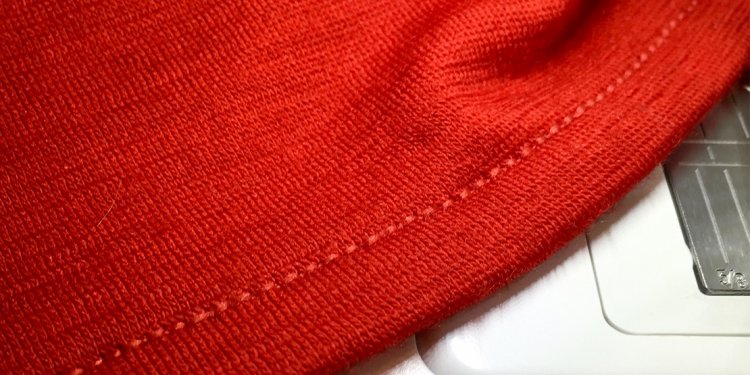 Stretchy Thread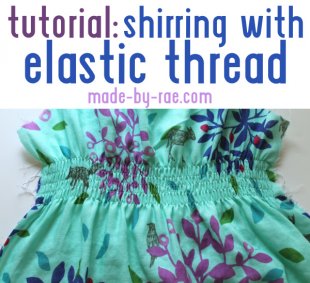 I know that a number of you out there are terrified by the concept of shirring with elastic thread. You Fear the Shirr.
Shirring is sewing with elastic thread in the bobbin of your sewing machine to create a "smocked" appearance on your fabric (it's not actually smocking, though; true smocking is a decorative stitching technique done on pleated fabric…my grandma used to hand-smock dresses for me back in the seventies and eighties).
"/>
I completely sympathize with those of you who are intimidated by shirring, because when the shirring trend started to get really hot a few years ago I just could NOT get it to work on my machine — and, after attempting it a few times, I just about threw my sewing machine out the window. Eventually I figured it out, and now I use it all the time! It's great for simple sundresses, and as many of you know, the back of the my Washi Dress Pattern is shirred, giving it a fantastic, comfortable fit and preempting the need for a zipper. The ability to shirr (I just had to look up that word to make sure it existed) is an excellent skill to have in your sewing arsenal, so I thought I'd put together a little tutorial for you today! Soon you'll be shirring like a pro!!
I use a Bernina Activa 220, which has a front-loading bobbin. I'll address the top-loading bobbin, too, but be aware that each machine will be a little different, and you might find that you need to make an adjustment or two in order to find the perfect technique for you. I've included some links to other tutorials at the bottom of this post, so if you find that this method doesn't work well on your machine, you may want to check out some of those.
First, let's talk about elastic thread. You can find elastic thread in the notions aisle of any sewing superstore next to the other elastics, but I'd recommend that you skip the store brand or Dritz brand elastic threads (I've had mediocre results with those) and look instead for the Gutermann brand, which I've heard has a higher quality elastic than the cheaper brands. At some point, I decided just to invest in the from CTS, and I'm so glad I did. Trust me, at a cone, it's definitely easier than going back and forth to the store 10 times, and you get about a million times more thread.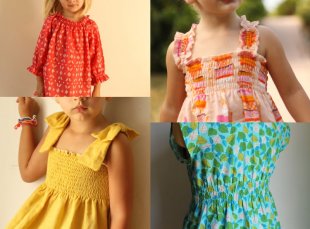 Okay, grab your elastic thread, and let's get started! Slowly wind a bobbin with elastic thread by hand. You'll want to be careful not to pull or stretch the thread as you wind.
Now place the bobbin in the bobbin case, pulling the thread through the hole that the thread would normally go through. The key is to do everything the same as if you were threading it with regular machine thread.
Place the bobbin case in your machine. You'll be using regular thread in the top of your machine. Increase the stitch length so that it's slightly longer than usual; for me that's a length of about 3.5-4 (on a scale of 1 to 5, where 2.5 is normal stitch length). I do NOT adjust the tension on my machine at all; I've tried that, but I've never found it helpful.
If you have a top-loading bobbin, it is really REALLY important to make sure that the thread goes through that little thread-guide notchy thing (see arrow in picture below). This is what gives the elastic thread its tension so that it doesn't make spaghetti squiggles on the back side of your fabric.
Now put the presser foot down, and just start sewing across your fabric. It's a good idea to try this on a scrap of fabric before attempting shirring on a garment. You know…because it's the responsible thing to do.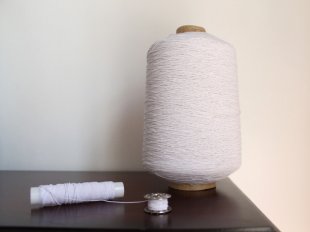 "/>
When you get to the other side, lift up the presser foot and your needle, and sew another row, about 1/2″ away from the first line. Leave a loop of elastic thread on the edge of your fabric every time you start a new row. Note: you will eventually have to trim these loops, but to hold each line of shirring in place, stitch forward and backward over each elastic thread as you sew the side seams together. This will secure those ends so that they won't pull out.
Each row of shirring should seem fairly loose and stretchy, but as you add rows they will work together to gather your fabric. The elastic thread should not squiggle or bubble on the back of the fabric, and it shouldn't be so tight that it feels like it's going to break if you stretch the fabric to its original size.
Once you have sewn all of your rows of shirring, use an iron to blast the stitches with lots of steam on both sides of the fabric. This will help gather your shirring even more. If you have a spray bottle, it may also help to spritz the fabric with a bit of water.
This is what it should look like after you've finished steam-blasting it:
Let me share one last thing that's really helped me: on my Bernina (which has the front-loading bobbin), the stitches come out too tight when I'm shirring lightweight fabrics like voile or double gauze (it's fine when I shirr cottons, though). To fix this, I loosen the bobbin screw slightly (a quarter- or half-turn is usually enough). Don't forget how much you turned the screw though — you'll want to turn it back when you're ready to sew with regular thread again.
You'll find that the amount of stretchiness you end up with really depends on the type of fabric you use, so trying it out on a sample first is really important! Play around with ONE variable at a time (don't change three things at once), sew a couple rows, blast it with steam, and if that doesn't work, change something else. It may take some persistence to figure out what works best for your machine, but if you are patient and figure it out, you'll be really glad you did!!!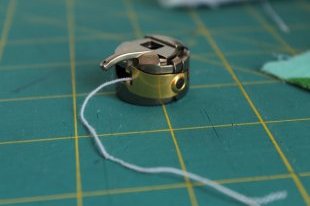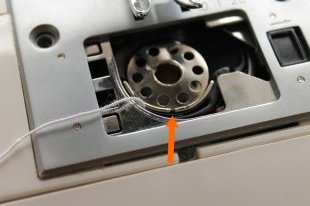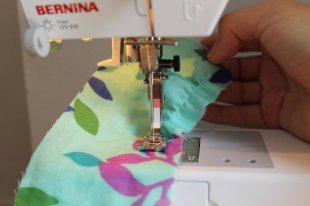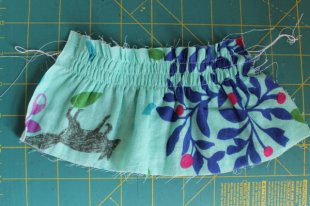 Share this article
Related Posts