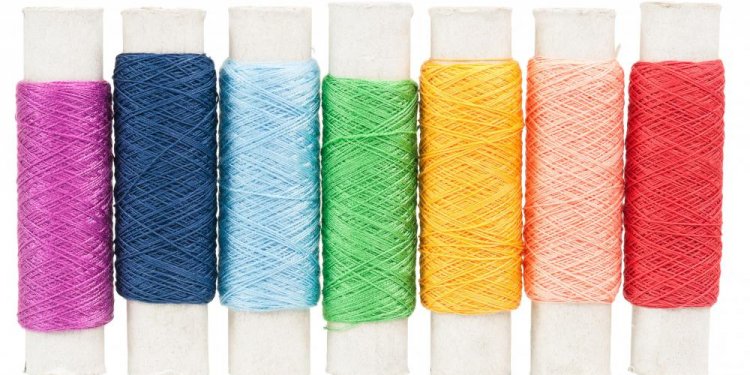 What is viscose Yarn?
Danufil® Proshade® is the name of an innovative new viscose melange yarn resulting from a development cooperation between the three industry partners Kelheim Fibres, Linz Textil and DyStar.
What's new about Danufil® ProShade®? While usually a melange yarn is spun of differently coloured fibres, Danufil® ProShade consists of a blend of standard viscose fibres and Kelheim's speciality viscose fibre Danufil® Deep Dye and is only dyed as needed at a later stage in the process.
This is made possible by the particular properties of Kelheim's Danufil® Deep Dye fibre: Due to its permanent cationic charge this speciality fibre has a significantly higher dye absorption capacity than standard viscose fibres. The difference in intensity and speed of the dye pick-up of the viscose fibres spun into Danufil® ProShade® allows a wide range of colours in melange dyeing of one and the same fibre material to be achieved.
Thus, Danufil® ProShade® melange yarn offers clear benefits for the dyeing process: a selected range of Levafix® and Remazol® dyes allows a salt-free dyeing process. Due to shorter dyeing cycles it is possible to save up to 30% in terms of water and energy, which is a clear advantage for the environment. At the same time productivity increases –a time saving of up to 40% speaks for itself!
Excellent reproducibility, levelness as well as a high level of light fastness and fastness to washing have been proven in numerous tests and commercial dyeing processes. Furthermore, DyStar offers comprehensive customer support – including support in developing dye recipes that ensure optimum results.
More benefits are obvious in terms of logistics and warehousing: Danufil® ProShade® can replace a stock of differently dyed yarns or fabrics and so reduces significantly the amount of capital required. The subsequent dyeing can be done in thousands of different melange tones according to the customer's specific needs and so allows a fast and flexible reaction to orders as well as production on demand – even of small melange lots.
Kelheim Fibres' expertise in the manufacturing of viscose speciality fibres, know-how and innovative spinning technology from Linz Textil and finally high-quality dyes and customer-oriented support from DyStar are combined in an innovative product which delivers significantly more efficiency and a better ecological performance in melange production.
Danufil® ProShade® is exclusively available from Linz Textil. ProShade® is available in all yarn technologies and is a registered brand name of Linz Textil GesmbH. The three partners are currently testing more fibre blends and dyeing possibilities.
Kelheim Fibres and DyStar will be presenting this innovative solution at ITMA in Milan.
About Kelheim Fibres
Kelheim Fibres GmbH is the world's leading producer of viscose speciality fibres and the most important supplier of viscose fibres for the tampon industry. Approximately 90, 000 tons of viscose fibres are produced and tested every year at Kelheim in South Germany. These are used in the most diverse applications – from fashion, hygiene and medical products to nonwovens and speciality papers.
Innovative products, flexible technologies and a strong customer orientation form the foundations of the company's success.
www.kelheim-fibres.com
About Linz Textil GmbH
Linz Textil GmbH is the European leading spinning and weaving company with almost 200 years of experience in the manufacturing of yarns, especially viscose, cotton and blended yarns, and a broad range of grey cloth for outerwear and technical applications and offers first-class products in the fields of textile, weaving, technical fabrics and yarns at their many different sites throughout Europe.
About DyStar
DyStar® Group is a solution provider, offering customers across the globe a complete range of colorants, auxiliaries and services. The DyStar Group has offices, competence centers, agencies and production plants in over 50 countries to ensure the availability of expertise in all important markets. With a heritage of more than a century of product development and innovation for the textile and leather industry, DyStar has developed into new markets and now in addition serves the paper, plastic and many other specialty chemical industries.
DyStar's service division assist Brands & Retailers and their Industry partners from their first inspiration throughout the entire supply chain to ensure that they meet stringent quality and ecological specifications, reduce costs and shorten lead times. The service division offers state of the art color communication through CSI, textile and ecology testing through Texanlab, ecology and environmental advice, supply chain auditing and consulting for RSL compliant sustainable processes through Sustainable Textile Solutions programs.
The DyStar econfidence® program provides assurance that provided products comply with legal, voluntary and brand & retailer RSL (Restricted Substance List) requirements. It is an assurance that our products are in compliance with chemical and environmental legislation in each market in which they are sold.
Share this article
Related Posts