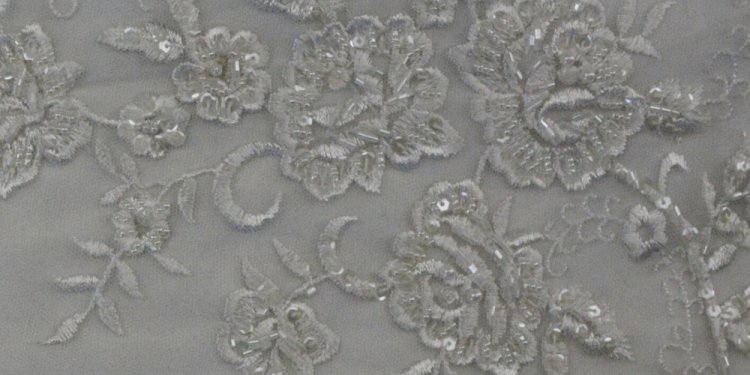 Beaded Silk Chiffon Fabric
Chiffon silk is a lightweight sheer silk fabric that provides a wonderful see-though effect. This see-through effect makes it very popular as an overlay for evening wear and bridal gowns. As an overlay, chiffon silk will provide added depth to the garment or gown and will provide the sensation of floating on the body.
The term "chiffon" derived from the French word for cloth simply refers to the weaving process used to make the fabric. It does not refer to the material used to construct the fabric.
Chiffon may be constructed from a wide range of synthetic materials such as polyester, rayon, nylon, etc. or from a natural fiber such as silk.
When comparing chiffon fabrics and prices it is very important to know the material used in the construction of the fabrics. Always ask yourself this one important question, "What type of chiffon fabric would you rather wear – chiffon constructed from synthetic fibers (plastic) or would you prefer to wear chiffon constructed from 100% pure silk?"
Chiffon silk is produced by alternately weaving together S-twist and Z-twist yarns. S-twist yarn is produced by tightly twisting together or plying two or more silk yarns in a counter clockwise (left hand) direction, while Z-twist yarns are wound in a clockwise (right hand) direction.
Alternating the S-twist and Z-twist yarns in the weaving process is the key to providing chiffon silk with not only its name but also with its characteristics.
Chiffon silk has many uses including bridal gowns, evening wear, blouses, scarves, ribbons, home decor and of course lingerie.
At JB Silks, we have a wide variety of 100% silk chiffon fabrics in stock and ready to ship to suit any event or project you may have. We also offer over two thousand distinctive silk fabrics which can be viewed from any page on our website by selecting the product category of your choice in the navigation bar on the top left side of the page, or from the drop down menu at the top of every page. Our products may also be viewed on Facebook by clicking on the link at the top right of every page.
Share this article
Related Posts