Twill Cotton fabric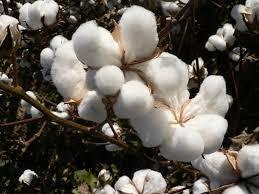 Let me eloborate on the answer by Jay Hirschfeld. Cotton is a fibre which we get from the cotton plant .
​
This is how actually cotton looks as a plant; we use the white fiber around the seed. According the end use requirement the cotton is then extracted from its seed.
If the end use of the cotton is going to be in cotton balls, only then a few processing steps take place, like cleaning and treating the cotton accordingly.
If the end use of the cotton is going to be a fabric then the following process occurs:
Ginning- Separation of cotton fibre from cotton seed.
Spinning - Conversion of staple fibres in to Yarn.
Weaving or Knitting - Conversion of yarn into fabric. Weaving and knitting follow entirely different mechanisms.
Cotton Twill - Twill is one type of weaving structure.
By changing the design this weave is obtained. Below is a simple twill weave design, an even (front and back are the same) 2 over 2 under.
​
This pattern is often used for making fabrics which need to be heavy and withstand higher wear and tear.
Most of our denims use this construction though some are uneven with 3 over 1 under.
Share this article
Related Posts